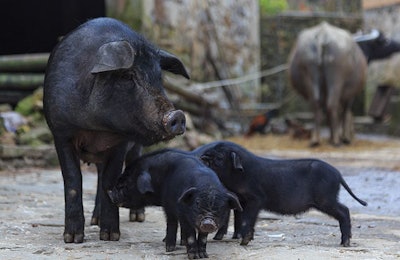 India, Nepal, the Philippines and Thailand report new cases
While authorities in Bhutan declare the African swine fever (ASF) situation resolved, new cases in domestic pigs are reported in India, Nepal, the Philippines and Thailand. In Japan, more domestic and wild pigs have tested positive for a different but equally devastating notifiable disease, Classical swine fever.
In the Philippines, the ASF situation varies across the country.
Almost three years ago, the nation's first cases were confirmed on the northern main island of Luzon. Within six months, the infection had spread to the southernmost island of Mindanao, and it continued further to affect most provinces at some time.
Generally the ASF situation has eased in recent months. Around 900 villages nationwide were declared ASF-free at the start of June, according to the Philippine News Agency (PNA).
In one region in northern Luzon, repopulation with pigs is going ahead in small communities following earlier ASF outbreaks. A survey in September of last year revealed that 23,800 hog raisers in the Cordillera Administrative Region owned more than 89,000 pigs between them.
To the south is Pangasinan province, which also reported previous ASF outbreaks. However, PNA reports that 2,000 pigs are being dispatched to this province in the Ilocos Region. These will act as sentinels to ensure the virus has left the area prior to restoring the pig population.
In contrast, the ASF situation on the island to Mindanao is less positive.
Pig owners in South Cotabato are on the highest level of alert for ASF. Over the last three months, reports PNA, cases have been detected in two municipalities. In March and April of this year, the few outbreaks appeared to be under control, but the disease has recently reemerged with a vengeance. Local authorities have been urged to step up border checks, and to clamp down on movements of pigs and products.
South Cotabato province is in the Soccsksargan region, which is in the south of Mindanao.
Meanwhile, in Zamboanga city in the west of the island, around 800 pigs have died and 430 more have been culled as the ASF virus has been detected in 10 villages.
More Thai village herds hit by ASF
In Thailand, a further five ASF outbreaks have been officially confirmed by the national veterinary agency. As with almost all previous outbreaks, the disease has hit village herds.
Latest notifications to World Organisation for Animal Health (WOAH) outline outbreaks starting in the period June 2-15 in different provinces. Of these, two were in northern Thailand, two in the south, and one in the northeast of the country. There is no indication in the reports about either the number of ASF cases at each location, or the pig population at risk of infection.
In November of last year, Thailand registered its first occurrence of ASF, which affected a few pet pigs near the capital, Bangkok. Since that time, the number of confirmed outbreaks has reached 94 across all six regions of Thailand. Of the nation's 76 provinces, one or more cases have been confirmed in 31.
Nepal registers further ASF cases
In early June, ASF was confirmed at two more small pig farms in Nepal. With 30 and 150 pigs, respectively, affected premises were in Koshi and Mechi — two zones in the Eastern region.
Nepal's first ASF cases were detected in late March. Previous outbreaks were confined to Bagmati, a zone in the Central region. Authorities attributed the spread of the virus to swill feeding.
So far, more than 5,300 pigs have been directly impacted by these outbreaks, including 3,460 mortalities.
In Asia, a number of agencies are devoted to developing and licensing effective vaccines against ASF. Up until this month, no proven safe and effective is available to the world's pig farmers to protect their animals against the disease.
Outbreak spread in northeastern India
Earlier this month, News 18 reported the deaths of 4,848 pigs from ASF in the state of Mizoram since the start of this year. In addition, 4,077 more animals have been culled over this period. Cases have been in nine districts.
Since the disease was first detected in this state in March of 2021, cases had been reported by local media in all 11 districts up to December. According to the same source, 33,400 pigs died and 10,900 were destroyed in Mizoram over that period.
Meanwhile, other states in this part of India also report further losses of pigs due to ASF.
In Assam, 39 animals have died and 191 have been culled in the Kalaigaon district since the start of June, reports Sentinel Assam.
Within days, ASF was confirmed at a pig breeding center in Manipur state, according to United News of India.
Furthermore, North East Today reports that ASF is suspected as the cause of death of a number of pigs at Dimapur in Nagaland recently.
More infected wild boar in South Korea
South Korea's total ASF cases stands at 2,655, according to Pig People (as of June 22). In addition to 2,633 outbreaks in wild boar, this figure includes cases on 22 of the nation's farms.
Among domestic pigs, the most recent outbreak was on a farm with around 1,200 animals in the northeastern province of Gangwon on May 20.
In September of 2019, the country detected its first ever ASF cases.
Ahead of the monsoon season, the agriculture ministry has announced special measures to protect South Korea's pigs from an elevated ASF risk arising from unfavorable weather.
Included are enhanced quarantine and biosecurity measures that reduce the risks of virus transmission from the country's many wild boar to domestic animals. At these times, good biosecurity is more challenging as a result of flooding and damage to wildlife fences and farm buildings. So ahead of heavy rains, the ministry is urging pig farmers to switch from groundwater sources to tap water for their animals, prohibit visitors, avoid leaving the premises, and maintain cleaning and disinfection of footwear, clothes and hands at the farm entrance.
Bhutan declares ASF situation "resolved"
To WOAH Bhutan's veterinary authority has recently declared an earlier ASF disease situation closed.
In mid-April this year, ASF virus was detected in pigs at a semi-commercial farm in a village in the Chukha district. While the index farm maintained biosecurity standards, according to the report, there were backyard herds nearby where hygiene was poor. In order to contain and eradicate the disease from this area, pig herds were depopulated, carcasses disposed of, and premises disinfected.
In this one outbreak, just over 1,000 pigs were directly impacted. Of these, 47 died, and 961 were destroyed.
About one year ago, Bhutan experienced a previous ASF outbreak in the same district, involving more than 2,000 animals.
In Hong Kong, no new outbreaks of ASF have been reported among the territory's wild boar population. The most recent case reported to WOAH was at the end of May.
View our continuing coverage of the global African swine fever situation.
Classical Swine Fever virus detected in Japanese pigs, wild boar
In mid-June, pigs at a farm in the Kiryu city area tested positive for the Classical Swine Fever (CSF) virus. This is according to the latest WOAH notification.
Previously, authorities were alerted after a spike in mortality among the herd of 5,000 pigs. Twenty of the animals died, and the rest have been destroyed.
This was the second outbreak near Kiryu, the first starting in early May. The city is part of Gunma prefecture, which is part of the Kanto region around the Tokyo metropolitan area.
In September of 2018, Japan confirmed its first CSF outbreak since the 1980s. Since then, cases have been detected on 82 farms, involving around 18,600 pigs.
Furthermore, presence of the CSF virus has been detected in a total of 300 wild boar in Japan for the year to March 31. According to a WOAH report earlier this month, the infected animals were found in 21 different prefectures. These bring Japan's total cases in the wild population since 2018 to almost 4,500.
Like ASF, CSF (also known as hog cholera) is a notifiable disease that affects members of the pig family, according to WOAH. Both diseases can cause devastating losses in domestic and wild populations, but they do not impact human health. Despite the similar names, CSF and ASF are caused by unrelated viruses.
Recently, companies from Canada and South Korea have agreed to pursue CSF vaccine licensing for emergency preparedness purposes for the Americas.