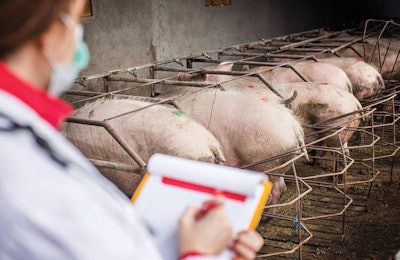 Since Thailand's first cases of African swine fever (ASF) in November 2021, outbreaks have been confirmed in more than one in three of the nation's provinces.
In November 2021, first cases of ASF occurred in Thailand. Since the official confirmation was registered in January of this year, infections have been detected at 59 locations in 28 of the country's 76 provinces. This is according to notifications to the World Organisation for Animal Health (OIE).
With the exception of the index cases in pet pigs, all reported outbreaks have been in village herds. So far, no cases have been detected on commercial pig farms.
Over the past two weeks, Thailand's animal health authority has informed the OIE about 28 further outbreaks. Reportedly involving a total of 981 animals, these began over the period February 1 to March 4.
Official reports received indicate that the country's ASF outbreaks so far have involved a total of around 1,900 pigs.
Already in 2021, rising feed prices led to a contraction in Thai pig production, according to the latest analysis of the USDA Foreign Agricultural Service. Further increases in feed costs as a result of the Russian invasion of Ukraine are forecast to delay the sector's recovery after ASF.
ASF detected again in Chinese swine
After a 10-month hiatus, ASF has been detected again in China's Xinjiang Uighur Autonomous Region.
During February, 16 of the 150 pigs at a farm in the Yizhou district died. According to the OIE notification, the rest of the herd was destroyed.
Previously in this region, the infection was reported at three farms between February and April 2021. Involved in all four outbreaks have been 1,362 pigs.
So far in 2022, this outbreak is the first among China's domestic pigs.
Philippines remains on ASF alert
No new cases of ASF have been reported in the country, according to recent reporting from the Philippine News Agency (PNA).
In the Northern Mindanao region province of Misamis Oriental, this source reports no new cases for 84 days.
However, authorities are maintaining vigilance for signs of the disease. In the province of Ilocos Norte in northwestern Luzon, local authorities have appointed biosecurity officers. According to PNA, their main tasks include monitoring the ASF situation in their area. As well as ensuring biosecurity measures are being maintained in their community, they are to report weekly on the situation to the local authorities.
Malaysia: Authorities call for more biosecurity in Sarawak
In the state of Sarawak in Eastern Malaysia, authorities are urging a strengthening of biosecurity measures.
According to Malay Mail, the call came after the culling of thousands of pigs, as well as many mortalities on "several farms" in the state. Affected premises have so far been confirmed to four divisions — Miri, Sibu, Betong and Sarikei.
Meanwhile, valuable trade in pork continues from Pasir Putih to Singapore. The farm in this area is free of ASF and maintains high biosecurity, reports this source.
Around 585 pigs from two farms in Miri have been culled over the past few days, reported Borneo Post last week.
In Sibu division, one slaughterhouse has been closed for 60 days by the local authority. This came after the detection of ASF virus at the premises. This is to allow the facility to be thoroughly cleaned and disinfected. Meanwhile, a similar facility in Sarikei has been ordered to close for three months after positive tests.
Local officials want to see improvements to slaughterhouses to make them safer and more hygienic, the same source reports. Among the measures called for is a requirement for the disinfection of all vehicles entering and leaving the facility. Furthermore, they are proposing the construction of an incinerator as a more effective solution than burial for the disposal of ASF-infected pig carcasses.
ASF under control in northeast Indian state
Outbreaks are now "more-or-less controlled and contained" in Mizoram, India, according to the state's agriculture ministry.
In an update on the ASF situation, News 18 reported that more than 33,400 pigs died in Mizoram in 2021, and 10,910 were culled. No pigs have died since December 2021. Furthermore, a 17-month ban on the import of pigs from ASF-free states was lifted in February. However, incoming animals still require a certificate that they are free of disease.
First ASF outbreaks in the state were recorded in March 2021. At the time, the source of infection was attributed to animals from neighboring Bangladesh.
More ASF in wild boar in Hong Kong, Russia's Far East, South Korea
Latest notification to the OIE from the authorities in Hong Kong confirms three more wild pigs in the territory have tested positive for the ASF virus.
The carcasses were found at the end of last month near the village of Stanley. According to the report, the distance and timing indicate these cases are unrelated to previous mortalities of wild pigs in Tai Po in January.
Last month, three more wild boar found dead in the Far Eastern federal district of Russia tested positive for the ASF virus. These latest cases bring to 12 the number of infected animals in Primorsky krai so far this year.
At the end of February, South Korea's agriculture ministry reported that 2,228 cases of ASF have been confirmed in the country's wild boar.
Since the nation's first ever ASF infections in September 2019, cases have now been detected in 28 cities and counties. While early outbreaks were in the northern provinces of Gyeonggi and Gangwon, the infection spread in 2021 to North Chungcheong. In February, North Gyeongseong registered its first cases.
As well as the outbreaks in wild boar, ASF has been detected on 21 farms in South Korea. However, no cases have been reported in the country's domestic pigs so far this year.
At the end of February, news agency Yonhap reported that the agriculture ministry was intensifying the hunting of wild boar, and constructing more wildlife fences. Around pig farms, the authorities are calling for enhanced disinfection and the establishment of quarantine facilities. These measures were announced after the recent spike in new cases in wild boar, and the spread of ASF to the south.
View our continuing coverage of the global African swine fever situation.