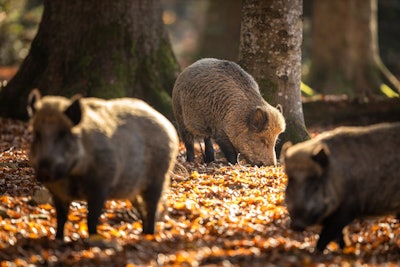 Recent cases of African swine fever in wild boar near the border in Poland reinforce the importance of maintaining wildlife barriers, according to a senior official in northeastern Germany.
Over the past two weeks, 11 European states have reported one or more new cases of African swine fever (ASF) in their respective wild boar populations. Among domestic pigs, only Romania and Russia have confirmed new outbreaks in this period.
ASF pressure continues to be high in the border area between northeastern Germany and Poland, according to Dr. Till Backhaus, agriculture minister for the German state of Mecklenburg-West Pomerania.
Last week, Backhaus highlighted that, although media attention on this issue has dropped, new cases of the disease in the Polish province of West Pomerania (Zachodniopomorskie). Some of the most recent cases are as close as 13 kilometers from the border with Germany, reported Schweine.net last week.
Despite some public criticism of wildlife barriers, the minister stressed their importance as a means of ASF control in order to protect the nation's pig industry.
Across Germany, the number of confirmed ASF cases in wild boar has reached 3,535. This is the total since the first infection in the eastern German state of Brandenburg in September 2020. Since then, cases have also been detected in the wild boar populations of neighboring Saxony and Mecklenburg-West Pomerania.
The total comprises 2,463 in Brandenburg (as of March 8), 1,055 in Saxony (as of March 7), and 17 in Mecklenburg-West Pomerania.
While the ASF virus has been detected in four premises with domestic pigs, a range of biosecurity measures has prevented further spread in Germany's pork sector.
ASF situation in wild boar elsewhere in Europe
So far this year, 2,177 outbreaks among wild boar have occurred in Europe. This is according to the Animal Disease Information Notification System operated by the European Commission (EC; as of March 6). This represents an increase of 338 from the previous update on February 20.
So far this year, one or more outbreaks have been registered through this system by 13 countries.
Recording the most outbreaks has been Poland (717), followed by Germany (436), Bulgaria (225), Romania (213) and Slovakia (166). Also registering new cases through this system over the previous two weeks were Estonia, Hungary, Italy, Latvia, Lithuania and Moldova.
In Poland, total outbreaks in wild boar so far this year stands at 594, according to the nation's chief veterinary office (as of March 9). Latest reports confirm 98 outbreaks in wild boar suspected in the period February 1-24. These involved a total of 116 animals.
Over the past two weeks, Italy has officially reported 13 more cases of ASF in wild boar. This is according to the latest report to the World Organisation for Animal Health (OIE). All the infected animals were found in the same northwestern provinces as earlier outbreaks. These are Alessandria in the Piedmont region, and Genoa province in Liguria.
Latest cases bring to 52 the number of ASF-infected wild boar in Italy since the first week of January.
Romania, Russia report ASF in pigs
As of March 6, eight European nations had officially confirmed one or more ASF outbreaks among domestic swine so far this year.
By that date, the region's outbreaks in these animals had reached 118 so far this year. Of this total, Romania accounts for 100 — an increase of 22 since February 20.
Of the 21 most recent cases confirmed by Romania's veterinary agency to the OIE, 20 were in small backyard herds. The other outbreak involved an infected carcass found dumped in a public area. In total, these outbreaks directly impacted 170 pigs.
The EC's system does not monitor the disease situation in Russia.
In the Southern federal district, ASF virus has been detected in the Astrakhan region. According to the official report to the OIE, all 25 pigs in a backyard herd died of the disease in mid-February. Last time the ASF virus was detected in this region was in April 2012.
View our continuing coverage of the global African swine fever situation.