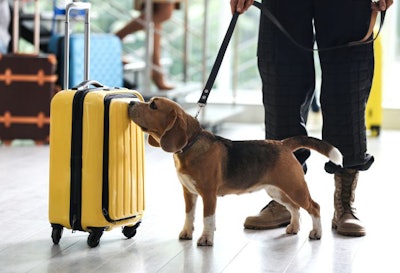 Bill introduced in US Senate by Sens. Joni Ernst and Raphael Warnock would explicitly authorize the USDA's National Detector Dog Training Center
U.S. Sens. Joni Ernst (R-Iowa) and Raphael Warnock (D-Georgia) are co-sponsors of the Beagle Brigade Act, a bipartisan bill that would streamline funding for dogs trained to detect foreign pests and animal diseases on cargo.
Officially called the National Detector Dog Training Center Act (S.3678), the bill would explicitly authorize the U.S. Department of Agriculture's (USDA) National Detector Dog Training Center, outline the center's duties and appropriations to support the center's operations, and require a report to Congress on the center's operations and recommendations to strengthen capacity to better protect domestic agriculture.
The Newnan, Georgia-based center is not explicitly authorized by Congress; instead, USDA relies on general plant and animal health protection authorities, according to a press release from Warnock's office. Without authorization, funding for the center is inconsistent as it relies on USDA user fees. Congressional authorization would allow for federal appropriations directly to the center to ensure consistent funding for the training program.
The Beagle Brigade dogs and human handlers, employed by USDA's Animal and Plant Health Inspection Service (APHIS) and the U.S. Department of Homeland Security Customs and Border Protection (CBP), are trained at the center.
"Protecting Georgia's agriculture is good for our farmers, good for our economy, and good for the health of our state," Warnock said in a press release. "If we want to continue this important work, Congress needs to pass this bipartisan legislation to give the Beagle Brigade explicit authorization so it can operate for years to come with direct congressional support. I'm grateful to these hard-working dogs and their trainers for their service to Georgia and our country."
On her office's website, Ernst expressed her concerns about the spread of highly pathogenic avian influenza in the U.S. and last summer's first cases of African swine fever in Haiti and the Dominican Republic.
"Iowa farmers know the dangers harmful diseases, like highly pathogenic avian influenza and African swine fever, pose to our state's agriculture sector and how critical it is to ensure we do everything we can to keep them out," she said. "The Beagle Brigade is a key tool in our nation's toolbox in detecting these serious diseases before they find their way into the U.S., and we ought to ensure this important program gets the proper backing to continue its work."
The bill was introduced in the U.S. Senate in February and has been referred to the Senate Committee on Agriculture, Nutrition and Forestry. Both senators are members of the committee.