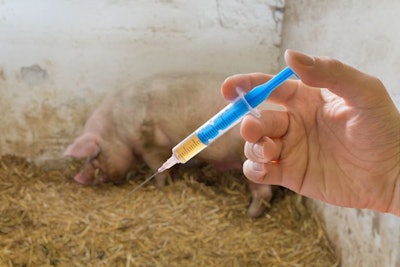 USDA has developed a successful vaccine candidate for African swine fever, but testing and safety protocols still need to be completed
It will be quite some time before a vaccine candidate developed by the U.S. Department of Agriculture's (USDA) Agricultural Research Service (ARS) to protect pigs from African swine fever (ASF) is available.
U.S. Agriculture Secretary Tom Vilsack said one of the ASF vaccine candidates "appears to be very effective against the Asian version of African swine fever," but that there are still many testing and safety protocols to complete before the vaccine will be available.
"There is still quite a bit of work yet to be done before that particular vaccine is capable and able to be utilized in the market. There are additional steps and responsibilities that are undertaken. It's going to take some time, additional field tests," Vilsack said.
Recently published USDA research, highlighted in the journal Transboundary and Emerging Diseases, shows that ARS scientists have developed a vaccine candidate with the ability to be commercially produced while still maintaining its efficacy against Asian ASF virus strains when tested in European and Asian breeds of swine. The findings also show that a commercial partner can replicate experimental level results and prevent the spread of the virus.
ARS has successfully engineered and patented five ASF experimental vaccines and has fully executed seven licenses with pharmaceutical companies to develop the vaccines. ARS continues to evaluate additional commercial partners to develop these vaccines.
A commercial vaccine for ASF will be an important part of controlling the disease in outbreak areas. Researchers will continue to determine the safety and efficacy of the vaccine under commercial production conditions and are closely working with their commercial partner in Vietnam.
There are no commercially available, safe and effective vaccines for ASF, a highly contagious disease that is fatal in nearly 100% of infected swine.
Vilsack recently issued a video message to draw attention to ASF and how to protect pigs from the disease, which has never been detected in the U.S. but has recently re-emerged in the Caribbean for the first time in nearly 40 years.
"African swine fever is a devastating swine disease that is spreading around the world right now, ruining livelihoods and disrupting trade," he said. "Outbreaks have ravaged hog populations in parts of Europe and Asia, especially China, over the last three years, and the disease was recently detected in captive hogs in Germany and confirmed less than a thousand miles away from our shores in the Dominican Republic in July," Vilsack said in the video.