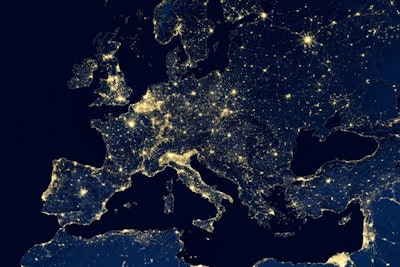 In addition to further outbreaks among backyard herds, Romania and Russia are reporting outbreaks of African swine fever (ASF) on large commercial pig farms.
Since the start of October, three European states have officially registered new outbreaks of African swine fever (ASF) in their respective domestic pig herds.
In Romania's ongoing battle to control the disease, ASF virus has been detected in a further 110 backyard herds and farms. According to the latest reports to the World Organisation for Animal Health (OIE), these outbreaks alone directly impacted around 63,600 pigs.
While the great majority of Romania's outbreaks have been in small non-commercial herds, there are some indications of a recent growing impact on larger units.
So far this month, the ASF virus has been detected on three farms — with around 6,000, 23,600, and 33,000 animals. All were in the south and southeast of the country.
ASF reported in 4 Russian districts
First ever ASF outbreaks have been recorded in Perm krai and Sverdlovsk oblast in Russia, according to recent notifications to the OIE.
In mid-September, the first cases were detected in Perm in a backyard herd of 24 pigs, one of which died. This krai is in the Volga federal district, where other ASF infections have occurred this year.
Part of the Urals federal district on the eastern margins of Europe, Sverdlovsk was the location of a first outbreak. It affected a backyard herd of 118 pigs at the end of last month.
Meanwhile, two further outbreaks have been confirmed on commercial units in Belgorod oblast. Affected were farms with around 2,000 and 6,900 pigs.
After an absence of three years, ASF returned to this oblast in the Central federal district during the third week of September. Since then, it has been detected at three large farms, affecting a total of more than 38,000 pigs.
In early October, a wild boar found dead has also tested positive for ASF virus in Novgorod oblast, according to the OIE notification. The previous outbreaks series in this region of the Northwestern federal district of Russia was in mid-September.
ASF developments elsewhere among European domestic pigs
Since the start of October, Poland's chief veterinary office has confirmed four further ASF outbreaks on pig farms.
With a total of 196 pigs, the affected herds each comprised between eight and 116 animals. One was located in each of the following provinces: Lesser Poland (Malopolskie), Lower Silesia (Dolnoslaskie), Subcarpathia (Podkarpackie), and Greater Poland (Wielkopolskie). Location of the latter outbreak was in a region with few previous cases.
Based on information from this source, the number of confirmed Polish outbreaks so far this year now stands at 110. These have directly involved more than 39,500 pigs.
Over the past week, the veterinary authority of the Republic of Moldova has declared to the OIE that the ASF situation in the country has been "resolved." This came after a single outbreak of the disease in a backyard herd in mid-August.
Also officially declaring an ASF event to the OIE is Ukraine. There have been no new cases in Luhansk oblasts since a small group of pigs was affected by the disease two months ago.
Overview of ASF situation in European domestic pigs
So far in 2021, 1,523 outbreaks have been confirmed in the region's domestic pigs.
A rise of 40 over the course of five days, these are the latest figures from the Animal Disease Information System of the European Commission (EC; as of September 29). This system does not monitor the ASF situation in Russia.
One or more cases have been reported in 10 European states in the year to date. With 1,354 outbreaks, Romania now accounts for around 90% of the region's total to date.
Also confirming new outbreaks with the EC during the month of September were Poland (with a total of 107 outbreaks so far in 2021), Ukraine (9), Slovakia (8) and Bulgaria (5).
European wild boar outbreaks total this year approaches 9,500
In Germany, total outbreaks in the wild boar population have reached 2,345 based on data from the authorities in the two affected states in the east of the country. As of October 8, this total comprises 1,807 outbreaks in Brandenburg, and 538 in neighboring Saxony (as of October 1).
Since ASF was first detected in Germany in September 2020, the virus has been detected in wild boar in eight districts in these two states — seven in Brandenburg, and one in Saxony. Among Germany's domestic pig population, there have been just three confirmed outbreaks so far. All were in Brandenburg during July.
As of September 29, 12 European countries had registered 9,465 ASF outbreaks in wild boar with the EC system in 2021. Highest numbers of outbreak so far this year have been confirmed by Hungary with 2,512 outbreaks, followed by Poland with 2,287.
Recording with the EC new outbreaks in their respective wild boar populations in September were Hungary, Poland, and seven other states. Latest cases bring these national totals for the year so far in Germany (to 1,869), Slovakia (1,453), Romania (877), Latvia (216), Bulgaria (198), Lithuania (117) and Estonia (47).
View our continuing coverage of the global African swine fever situation.