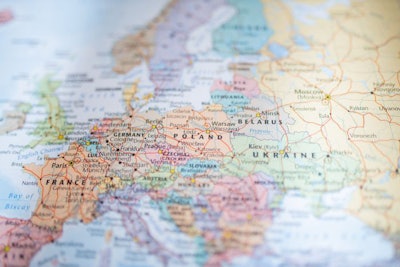 Miratorg, one of Russia's largest pork producers, reports ASF at a farm with more than 29,000 pigs.
Since ASF virus was first detected in Romania more than three years ago, it has resulted in thousands of outbreaks in the country's wild and domestic pigs. A great majority of the outbreaks in swine have affected small backyard herds of fewer than 50 animals. However, latest official reports from the national veterinary authority indicate several recent outbreaks on large commercial units.
Of the 58 outbreaks in swine reported to the World Organisation for Animal Health (OIE) over the past week, four affected farms.
Between August 26 and September 21, presence of the ASF virus was confirmed at two commercial premises in central Romania, and two in the southeast of the country. Involving the most animals — with around 24,000 and 53,000 pigs, respectively — were two outbreaks in the central county of Brasov. With 2,200 and 4,000 animals, outbreaks at the premises in Braila and Calarasi, respectively, impacted fewer animals.
Altogether, more than 84,000 pigs were directly impacted by these latest Romanian outbreaks. As well as the four commercial premises, one pig carcass found dumped in a public place also tested positive for the ASF virus, as did those belonging to 53 backyard herds.
Poland, Russia, Bulgaria register new cases in pigs
One of Russia's largest pork producers, Miratorg, has been hit by ASF. According to the official report to the OIE, the affected farm had almost 29,300 pigs, and is located in Belgorod oblast in the Central federal district.
Bordering oblasts Kursk and Voronezh, where recent outbreaks have occurred, as well as Ukraine, Belgorod had been free of ASF since August 2018.
Also in Russia, a village herd of 225 pigs has tested positive for the ASF virus in Samara oblast in the Volga federal district, according to Russia's veterinary authority. In its notification to the OIE, the body stated that selective killing and disposal of the animals were planned. Since April, there have been seven outbreaks in Samara, involving almost 800 swine and five wild boar.
In the Republic of Tatarstan, the ASF situation has been declared "resolved" to the OIE. This came after the identification of a single virus-positive wild boar there in June. Tatarstan is also in Russia's Volga district.
Poland's chief veterinary office has confirmed two more ASF outbreaks on pig farms. First was a herd of 23 fattening pigs in Mielec county in Subcarpathia (Podkarpackie), followed by a herd of 41 animals in Warmia-Masuria province's Ilawa county. There have been multiple outbreaks in both counties this year.
Based on information from this source, the number of confirmed Polish outbreaks so far this year now stands at 106, directly involving more than 39,300 pigs.
Last week, a fifth outbreak of ASF of the year was confirmed by the Bulgarian food safety agency. Affected was a single pig in Plovdiv. The outbreak comes after a previous outbreak in the same central province in August. There have also been two outbreaks in neighboring Pazardhik – including at one farm with around 13,000 pigs. Located in the east of the country, a small farm was hit by the disease in Varna in mid-July.
Overall ASF situation in European domestic pigs
So far in 2021, 1,483 outbreaks have been confirmed in the region's domestic pigs.
A rise of 49 over the course of one week, these are the latest figures from the Animal Disease Information System of the European Commission (EC), as of September 24.
One or more cases have been reported in 10 European states in the year to date. With 1,316 outbreaks, Romania now accounts for 89% of the region's total, and 46 of the most recently reported outbreaks.
Also confirming new outbreaks with the EC have been Poland (with a total of 105 outbreaks so far in 2021), and Bulgaria (with five).
During the whole of 2020, 1,240 ASF outbreaks in pigs were registered with the EC by 10 European countries. Of this total, 1,053 outbreaks were in Romania. The EC system does not monitor the ASF situation in Russia.
European wild boar outbreak total this year approaches 9,400
In Germany, total outbreaks in the wild boar population have reached 2,248 based on data from the authorities in the two affected states in the east of the country. As of September 27, this total comprises 1,751 outbreaks in Brandenburg, and 497 in neighboring Saxony.
Since ASF was first detected in Germany just over 12 months ago, the virus has been detected in wild boar in eight districts in these two states — seven in Brandenburg, and one in Saxony.
Among Germany's domestic pig population, there have been just three confirmed outbreaks so far. All were in Brandenburg during July.
As of September 24, 12 European countries had registered 9,396 ASF outbreaks in wild boar with the EC system in 2021. Highest numbers of outbreak so far this year have been confirmed by Hungary with 2,512 outbreaks, followed by Poland with 2,252.
Recording with the EC new outbreaks in their respective wild boar populations in September were nine of these states. Latest cases bring these national totals for the year so far in Germany (to 1,655), Slovakia (1,449), Romania (875), Latvia (215), Bulgaria (198), Lithuania (115) and Estonia (47).
For comparison, a total of 11,027 ASF outbreaks in wild boar were registered with the EC last year by 14 European countries.
View our continuing coverage of the global African swine fever situation.