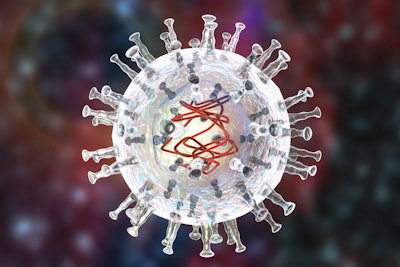 African swine fever has not been detected in the US, and USDA wants to keep it that way by drawing attention to the disease and educating people
U.S. Agriculture Secretary Tom Vilsack issued a video message on September 8 to draw attention to African swine fever (ASF) and how to protect U.S. pigs from the deadly disease.
Vilsack emphasized that ASF does not affect people and is not a food safety issue, but he explained the effects of the disease on pig herds around the world.
"African swine fever is a devastating swine disease that is spreading around the world right now, ruining livelihoods and disrupting trade," he said. "Outbreaks have ravaged hog populations in parts of Europe and Asia, especially China, over the last three years, and the disease was recently detected in captive hogs in Germany and confirmed less than a thousand miles away from our shores in the Dominican Republic in July."
The disease has never been detected in the U.S., and the USDA and other agencies are on high alert to prevent its entry.
"African swine fever has never been detected in the United States. However, it is a very real threat to our pork industry," Vilsack said, adding that U.S. pork producers marketed more than 131 million pigs in 2020, with a value of more than US$19 billion and 28 billion pounds of meat.
"At USDA, we continue to do everything we can to help keep African swine fever out of our country," he said. "We have a series of interlocking safeguards to prevent this disease from entering the United States and we also believe that we have a solid plan for stamping it out if it ever gets here."
Vilsack said USDA is working to raise awareness of the seriousness of the risks posed by ASF, from commercial pig farms to people who have a pig as a pet to international travelers.
"We're working with the U.S. Customs and Border Protection to increase screening of passengers and baggage coming into the U.S. from affected areas to ensure illegally brought and potentially contaminated pork products are intercepted. People can also unknowingly carry this disease into the United States on their clothing or shoes, so we're working to educate all international travelers about the risk," he said. "Protecting the U.S. hog herd is a critical priority for the entire team at USDA, but we cannot do it alone. We want everyone who comes in contact with pigs, from the large farm owner to people who own a small miniature pig and even international travelers and petting zoo visitors, to understand how easily this disease can spread in the importance of keeping our U.S. pigs free from this disease."
Vilsack said good biosecurity practices must be followed by anyone who comes in contact with pigs, and people should know how to identify symptoms of the disease and how it spreads.
"Help others understand the ways this disease can be transmitted, the importance of biosecurity and why it's critical to declare international farm visits and items they bring back to the United States to customs," he said. "Here at the USDA, we are prepared to respond if this disease does get into the United States, but we're hoping that, with your help, we can prevent it from getting here in the first place."
View our continuing coverage of the African swine fever outbreak.