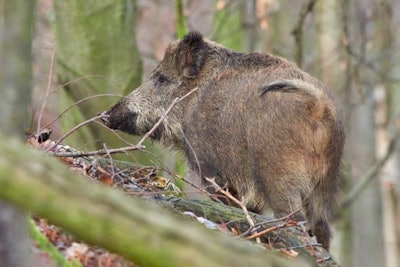 Elsewhere in Asia, new cases of African swine fever have been reported in Malaysia's Sabah state, and in the Far Eastern federal district of Russia.
A wild pig found dead in Hong Kong has tested positive for the African swine fever (ASF) virus. The region had been free of the disease since May, and it is the first detection in a wild animal in the region.
According to the official report to the World Organisation for Animal Health (OIE), a carcass was found last week in the Siu Sai Wan natural park near the southeastern tip of Hong Kong Island. Previously, abnormal mortality had been reported among the wild pigs in the area.
There are no pig farms in the area. However, South China Morning Post reports that the discovery has sparked concerns about a resurgence of the disease in Hong Kong. Up to 74,600 pigs are kept on around 40 farms in Hong Kong. Local farmers have expressed concerns for the health of their animals, as well as trade restrictions if the virus infects domestic pigs.
Local officials have stated that ASF poses no threat to human health. There have been calls for the government to encourage hunting to reduce the wild pig population. Numbering between 1,800 and 3,000, the wild animals are common in rural areas in the region, according to this source. At least six carcasses had been reported in recent weeks by hikers.
In February, around 3,000 domestic pigs were culled at a farm in Yuen Long district after ASF was detected in the area. Four months later, the ASF situation in Hong Kong was reported to be "resolved."
Further ASF outbreaks reported by Malaysia
Over the past week, Malaysia's veterinary authority has registered with the OIE 13 further ASF outbreaks in Sabah state on the island of Borneo.
Directly affecting 19 wild pigs and 142 domestic animals, these cases occurred between early March and August 8. Eight of the outbreaks were in backyard herds in villages across four districts in the state. Each herd comprised up to 54 pigs.
At the end of August, three districts in the neighboring state of Sarawak were declared ASF control zones.
Other recent ASF outbreaks in Asia
Late last month, three new outbreaks of ASF were recorded by Russia's veterinary authority in the Far Eastern federal district.
According to the report to the OIE, affected were backyard herds of between nine and 47 pigs in different districts of Amur oblast. They bring to eight the number of outbreaks in Amur since July. In addition to seven outbreaks in a total of 112 backyard pigs, one wild boar in the area has also tested positive for the ASF virus.
ASF outbreaks have also been recorded in recent weeks in Khabarovsk oblast and Primorsky krai in the same federal district of Russia.
In South Korea, the number of wild boar that have been infected with ASF since October 2019 has risen to 1,584 (as of August 31). According to the United Nations' Food and Agriculture Organization (FAO), all the latest cases were in the two northern provinces where the great majority of previous cases have occurred. However, there has been a first case in the Sokcho city region of Gangwon province, report local media.
Philippines kick-starts return to backyard pig raising
In two regions of the Philippines, the Department of Agriculture is taking measures to support former pig owners whose animals were culled as a result of ASF.
Around 6,000 sentinel pigs will be offered to chosen farmers in 60 areas of Central Luzon previously hit by ASF, according to the Philippine News Agency (PNA). To qualify, premises must be disinfected and test negative for ASF virus.
A local official said the aim of providing these sentinels is to kick-start backyard pig production again. This will restore the livelihood of affected farmers, increase domestic pork production, and bring down pig meat prices, he said.
In the Soccsksargen region on the island of Mindanao, a similar scheme has been initiated, reports PNA. Former pig farmers in two villages in the province of North Cotabato are set to receive the first of up to 90 sentinel animals. If these pigs survive for at least 90 day, controlled repopulation will start. No cases of ASF have been reported in the province since January.
At each location, premises are inspected for safety standards. Adherence to strict biosecurity protocols is a requirement for participants.
ASF was first detected in the Philippines in July 2019. According to the OIE, 622 outbreaks were officially reported across many provinces (as of February 2021). At the time, direct losses of pigs were put at almost 427,000.
At the end of August, the Department of Agriculture stated that new cases of the disease are in sharp decline.
Six new outbreaks in South Africa
In the last week of August, South Africa's animal health agency registered with the OIE a further six outbreaks of ASF in domestic pigs.
Largest of these outbreaks was in a village in the Chris Hani region of Eastern Cape. Two of the 3,000 pigs in the village died as a result of the outbreak at the end of July.
ASF was also confirmed at four locations in Cape Town in Western Cape from mid-July to early August. Directly affected were a total of 452 pigs in herds ranging from 25 to 207 animals. Of these, 96 died.
In the province of Gauteng, a backyard herd of 59 pigs tested positive for the ASF virus in mid-August. Of these, 29 animals died, and the others were destroyed.
Together, 106 outbreaks affecting more than 46,600 pigs have been reported to the OIE in the three ongoing ASF outbreak series in South Africa.
Rising concerns over ASF threat to South African commercial farms
At the end of last month, the Western Cape state veterinarian expressed concerns over the spread of ASF in the Cape Town area, and poor biosecurity by many pig owners.
Food for Mzansi reported the disease present in six districts at that time, and ASF was suspected in a seventh.
Despite the disease risks, infected pigs are not culled in South Africa. This is against the policy of the national department of agriculture, according to the veterinarian. There is no financial compensation for animals that are culled for this reason. Instead, farmers bury their dead pigs on site using lime, he said.
So far, no cases of ASF have been recorded on South Africa's commercial pig farms, the source reported. These have high biosecurity standards, said the official, but some are located within two kilometers of known ASF outbreaks. Despite being quarantined, some pig owners still move infected animals off their premises.
View our continuing coverage of the global African swine fever situation.