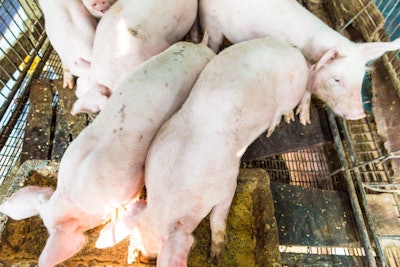 After the detection of the African swine fever virus in several samples of food in recent weeks, feeding of any meat waste to pigs in Taiwan has been banned.
In South Korea, another outbreak of African swine fever (ASF) has occurred at a farm, while backyard pigs have been infected in India, Malaysia, the Philippines and Russia's Far East. Meanwhile, further ASF cases have been reported in the Caribbean state of the Dominican Republic.
Authorities in Taiwan are so concerned about the threat of ASF that they have imposed a one-month ban on feeding of kitchen waste to pigs in the territory. Throughout September, meat waste from households and processing facilities will be prohibited, reports Focus Taiwan. Bread, fruit and vegetable materials will still be permitted, however.
The ban is justified by the Council of Agriculture as a means to prevent the transmission of ASF to Taiwan's "high-value pig farming industry," according to the source.
Fines of at least TWD50,000 (US$1,800) and up to TWD1 million will be levied on those who break the feeding ban.
According to a subsequent report from the same source, four farmers have already been fined for feeding illegal wastes to pigs.
Prior to the latest ban, 676 of the 6,400 pig farms in Taiwan were authorized to feed kitchen waste to their 430,000 pigs. However, all such wastes had to be heated to 90C for one hour to destroy pathogens.
Rewards are being offered to those who report infringements of the ban, reported Taiwan News last week.
Sparking the new restrictions may have been the discovery of the ASF ban in foods. Over the past two weeks, the same source has reported ASF virus detected in illegal pork imports from Vietnam, as well as in sausages and shredded chicken on sale in Taiwan.
South Korea: Further farm outbreak, more infected wild boar
Last week, a new outbreak of ASF was confirmed at a farm in South Korea.
According to Yonhap, the affected premises was in Hongcheon county, which is in Gangwon province in the northeast of the country. There were around 2,300 pigs at the farm, but no other commercial swine within 10 kilometers.
Since the first cases of ASF were detected in the country in 2019, South Korea's total outbreaks in domestic pigs has reached 20. This comprises 14 farms outbreaks in 2019, two last year, and four since May 2021.
Latest information from the national veterinary authority to the World Organisation for Animal Health (OIE) puts the country's total of ASF outbreaks — in wild boar and domestic pigs — at 1,561. Number of cases in wild boar stands at 1,589.
New outbreaks of ASF in Russia's Far East
Over the past two weeks, three new outbreaks of ASF have been officially confirmed in the Far Eastern federal district by the Russian authorities.
According to the latest OIE reports, these affected six backyard pig herds — one in Khabarovsk oblast, two in Amur oblast, and three in Primorsky krai. These had between one and 52 animals.
Furthermore, one wild boar found dead has also tested positive for the ASF virus in the Amur region.
ASF cases reported in new Malaysian state
At the start of this month, The Borneo Post reported that pig health is being monitored at commercial farms in Sarawak. There are more than 100 commercial premises in the state, which have around 450,000 pigs, and some of their animals are exported to Singapore.
Now designated as ASF control areas are three divisions: Limbang, Kapit and Miri. Testing positive for the ASF virus is at least one backyard herd in Limbang, and local people report finding wild pig carcasses. Among the measures imposed to halt the spread of infection are heavy restrictions on the movement and sale of pigs and pork products into, within, and out of the control area. Authorities are urging pig owners to report signs of ill health and deaths of their animals. Furthermore, the buying, selling and possession of wild boar meat are prohibited in the area.
Located on the island of Borneo, Sarawak borders the state of Sabah, where ASF was first detected in February. Latest cases to be reported to the OIE were found in June.
A scientific paper reported by the same source records the hardships to indigenous people caused by ASF. In their culture, wild bearded pigs are highly valued as a demonstration of wealth, as well as a forming the centerpiece of celebratory meals. In some areas of Sabah, these animals have been brought close to extinction by the disease, researchers reported.
Philippines reports decline in ASF cases
At the end of last month, the Department of Agriculture recorded a decline in new cases of ASF, reported the Philippine News Agency (PNA). At the time, there were 147 cases in 24 communities.
Among those affected recently were the villages of Vintar and Banna in Ilocos Norte. This province is in the northwestern tip of the island of Luzon. In Vintar, at least 200 pigs were scheduled to be culled to control the spread of infection. Elsewhere in the province, reported the same source, those whose pigs had previously been culled were offered livelihood aid as a partial compensation for the loss of their animals.
On the island of Mindanao, trained biosecurity officers were being deployed in South Cotabato province, reported PNA. These officials are tasked with ensuring the health protocols are carried out at community level.
In neighboring Cotabato, environmental assessments are being carried out in a number of villages. These aim to establish or dispel the suspicion that ASF virus was transmitted in water sources in this area.
Last week, PNA reported a Department of Science and Technology proposal of funding for a new institute of virology in the Philippines. The proposed sum of PHP983 million (US$19.7 million) for this research facility would help the country to tackle diseases such as ASF.
Further ASF losses reported in northeast Indian state
By the end of August, mortality of pigs from ASF in Mizoram had reached 25,000, according to India Today. Since the first cases of the disease in March, financial losses are reported to have reached INR1.21 billion (US$16.6 million) in the state. Furthermore, more than 9,400 pigs have been culled to try to control the infection.
Directly affected have been 249 villages in 11 Mizoram districts, according to this report. Source of the infection in the state is thought to be pigs or pork from Bangladesh, Myanmar or the neighboring Indian state of Meghalaya.
Rising ASF cases in the Dominican Republic
ASF was first detected in this Caribbean state in April, although the disease was not officially registered until July.
Including the latest cases to be recorded with the OIE, the number of outbreaks stands at 39. Almost 3,000 of the 4,400 pigs in the infected herds have died. All of those affected are described as belonging to "backyard herds," with the number of animals at each ranging from six to 609. The most recent of these reported cases occurred in early August.
Since April, the infection has spread across much of the country, affecting one or more herds in 14 of the country's 32 provinces.
View our continuing coverage of the global African swine fever situation.