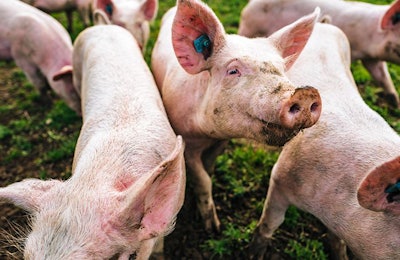 Germany and Poland have recently passed the 2,000-milestone for ASF in their respective wild boar populations.
Germany is facing a long battle to control African swine fever (ASF), according to a Reuters report last week. Among the consequences of the disease has been a loss of some of its important export markets for pork, particularly China.
According to the agriculture minister for the state of Saxony, ASF is a problem not only for Germany but also for the European Union.
Wolfram Guenther was speaking after a meeting last week, when Germany's federal ministry of agriculture restated its commitment to support the country's individual states to control ASF. This was stated by the ministry's parliamentary state secretary Uwe Feiler to a virtual meeting of agriculture ministers, where he said that all stakeholders must play their part in tackling the disease.
Feiler said the ministry is supporting particularly the authorities in Brandenburg and Saxony in their battle to halt the spread of the infection — not only for their own states but for the whole country. He cited the example of the ministry obtaining some financial support for the building of fences to restrict the movements of wild boar. Furthermore, he added, the ministry continues discussions with the country's export markets over the safety of German pork.
Germany's ASF cases in wild boar passes 2,000
Confirmation of ministry support came in the week that Germany's total cases of ASF in the wild population exceeded 2,000.
Total confirmed outbreaks have reached 2,059 in the two affected states in the east of the country. According to the respective state authorities, this total comprises 1,616 outbreaks in Brandenburg (as of September 3), and 443 in neighboring Saxony (as of August 27).
Since ASF was first detected in Germany almost exactly one year ago, the virus has been detected in wild boar in eight districts in these two states — seven in Brandenburg, and one in Saxony.
Among Germany's domestic pig population, there have been three confirmed outbreaks so far. All were in Brandenburg during July.
More ASF outbreaks in Poland's pigs, wild boar
A further 23 ASF outbreaks in domestic pigs have been confirmed by the Polish chief veterinary office. Reported between August 25 and September 3, these involved a total of almost 3,000 animals in herds ranging in size up to 686 pigs. Nine of the outbreaks were in groups of more than 100 animals. Mielec county in Subcarpathia (Podkarpackie) was the location of 14 of these latest outbreaks. Others were in Lesser Poland (Malopolskie), Warmia-Masuria, and Lower Silesia (Dolnoslaskie).
Based on information from this source, the latest cases bring to almost 37,000 the number of domestic pigs directly impacted by ASF outbreaks so far this year at 81 premises.
Over the past two weeks, Poland's authorities have registered with the World Organisation for Animal Health (OIE) the first outbreaks of ASF in new zone in the central-western provinces of Lodz and Greater Poland (Wielkopolskie). All outbreaks occurred in the period June 18-20. Affected were a total of 356 pigs at four premises described as "farms."
As well as retrospectively registering with the OIE numerous cases dating back to 2020, the national veterinary office has also reported more recent cases in wild boar on its website. Covering the period June 23-August 23, these amounted to 182 outbreaks involving 210 animals. ASF virus-positive cases were detected in nine provinces.
Of the 2,062 outbreaks registered so far this year, by far the worst province to be affected is Lubusz. Located in the west of Poland and bordering Germany, this province accounts for 1,211 (59%) of the nation's outbreaks in wild population in 2021.
In the whole of 2020, 103 ASF outbreaks were recorded in Poland's domestic pigs, and 4,070 in its wild boar population. These were the figures lodged with the Animal Disease Information System of the European Commission (EC).
Further cases in Romanian pigs, wild boar
Over the past two weeks, new cases of ASF have been confirmed in domestic pigs across Romania. This is based on official reports received by the OIE. Total number of outbreaks was 93. While some of these cases date back to March of this year, most occurred during the latter half of August.
Although the great majority of infections were in small backyard herds, the total included six large farms. Each of these had between 1,144 and just over 30,000 pigs. Furthermore, a few of the reported outbreaks related to pig carcasses dumped in public areas, and subsequent confirmation these were positive for the ASF virus.
In addition to these cases in domestic pigs, Romania's veterinary authority has registered with the OIE nine recent outbreaks in wild boar, and three more during the spring months of this year. These involved a total of 13 wild animals.
ASF reported in backyard herds in six Russian oblasts
Over the past two weeks, Russia's veterinary authority has registered nine ASF outbreaks in domestic pigs with the OIE. All affected herds were described as "backyards," while the total number of pigs directly impacted by the outbreaks was 401.
Among the outbreaks were first cases in the Central federal district oblast of Bryansk, where the infection was most recently present in July. After a similar period of time, ASF has returned to Vladimir oblast in the same district. One more herd was also infected in each of the oblasts of Kostroma and Oryol.
One of the three recent outbreaks confirmed in Saratov oblast was detected in a herd of 284 pigs. Two smaller herds were also infected in this oblast of the Volga federal district.
In late August, the ASF virus was also detected in two small non-commercial herds in the Northwestern federal district — in Novgorod oblast.
Ukraine reports return of ASF to two regions
Two small groups of swine have been affected by ASF, according to recent reports to the OIE from the Ukrainian the animal health agency.
After a 12-month hiatus, ASF has been detected in Zaporizhzhya in the southeast of the country. Affected was a backyard herd of 10 pigs. One died and the rest have been destroyed.
At the start of September, nine pigs died in a nature park in the eastern oblast of Kharkiv. They tested positive for the ASF virus, the first animals to do so in this oblast since July 2019.
Bulgaria: New cases in wild boar, follow-up investigations in swine
In the province of Plovdiv, the Bulgarian food safety agency has identified 14 unregistered premises. Each had a single pig for domestic consumption. While their owners are urged to register the animals, samples have been taken to check the pigs' health status. Movements of these pigs have been halted.
The investigations were carried out in a 10-kilometer radius of an unregistered private farm where ASF was confirmed in mid-August. Three outbreaks have been registered in the country since the end of July. They are Bulgaria's only cases in domestic pigs so far this year.
During the second half of August, four outbreaks of ASF in Bulgaria's wild boar were reported to the EC.
Overview of ASF situation in wild boar elsewhere in Europe
In the second half of August, new cases of ASF were also confirmed in wild boar to the EC by four European states. Recent outbreaks were reported in Slovakia (25 outbreaks), Latvia (19), Hungary (9) and Lithuania (4).
So far, no cases of ASF have been detected in the United Kingdom (U.K.). To ensure this status continues in England's Forest of Dean, the department for the environment, food and rural affairs, Defra has issued a warning to the area's visitors to dispose of food waste safely. Encouraged by COVID-related travel restrictions to other countries, many more people are taking vacations at home this year. If the Forest's wild boar population were to become infected through contaminated food or wastes, the deputy chief veterinarian warns that the result for the country's pigs and pig keepers could be "devastating."
Located in the west of the country, the Forest of Dean is home to the U.K.'s largest population of feral wild boar, according to Forestry England.
View our continuing coverage of the global African swine fever situation.