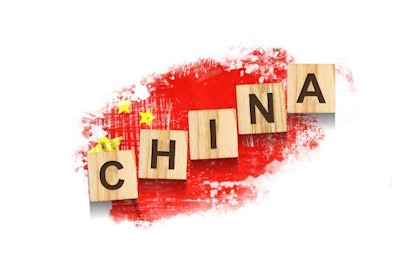 Hog prices fell at 'unexpected and unstoppable pace' from February to June
A sharp decline in China's hog prices in the first half of 2021 will affect the global market, according to Rabobank's Pork Quarterly report from July.
Hog prices in China fell to levels lower than imported pork prices "at an unexpected and unstoppable pace from mid-February to mid-June," the report said. This was due to outbreaks of African swine fever (ASF) and subsequent herd liquidation.
However, Rabobank said China's hog price forecast is expected to rebound in the third quarter.
"Given the large slaughter of hogs and liquidation of three-line-crossbred sows, we expect slaughter to decline in Q3, compared with Q2," the report said. "Average hog slaughter weight will also go down, as it's not profitable to raise oversized hogs at the moment. Reduced supply will support a hog price rebound in 2H."
Rabobank added that July flooding in Henan, one of China's largest pork-producing provinces, adds to new disease risks for the rest of 2021 and into early 2022.
China's pork imports are expected to decline further in the third quarter, with full-year imports down 10% to 20%.
"This will still make 2021 the second largest year on record for imports, but the change in China's import demand will affect all exporters," the report said, adding that increased demand from other markets such as the Philippines and Vietnam could partially offset China's lower demand.
Other pork markets
While U.S. pork exports were up 12% in May, they are down 1.6% year to date. Shipments to Mexico, Japan and Canada are up sharply, reflecting the depressed shipments from a year ago, but are also up from April. Exports to China and Hong Kong remain weak, the report said.
The EU-27 and the U.K. have seen strong pork production growth this year, but high feed costs and "likely softening imports" will limit production growth in the third quarter. With the ASF situation in Germany still escalating, Rabobank says extra-EU pork exports from Germany are again at risk.
In Mexico, hog prices have plateaued at record highs – 62% higher year over year – helping producers offset high input costs. Production growth is expected to slow in the near term and rebound in the second half.
Also of note, Rabobank said ASF continues to spread across Vietnam, mainly on small-scale farms, and higher feed costs have put pressure on producer margins. In the first half of the year, Vietnam "substantially" increased imports of pork muscle and variety meat (up 51.5% year over year).