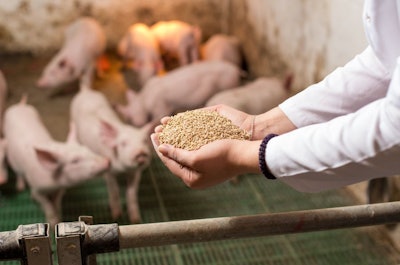 2 countries at different stages of coping with African swine fever see different levels of feed production and consumption
Although much of Asia has been affected by African swine fever (ASF), several of the region's animal feed producers saw increased feed production in 2020, due to herd restocking efforts and increased demand for poultry.
China's hog herd rebuilding efforts and the consolidation of the country's hog farming sector boosted hog feed production there in 2020, with production rebounding 15% to 16% year over year.
According to Feed Strategy's 2020 World's Top Feed Companies ranking, 52 of the world's largest animal feed producers were based in Asia, with more than half of those (29) based in China. Together, these companies produced more than 129 million metric tons of compound feed last year. According to Alltech, 240 million metric tons of feed in total were produced in China in 2020.
"Chinese hog feed recovery is even faster than hog herd building over the last 12-18 months, and has benefited from the industry consolidation of hog farming sector," Lief Chiang, Rabobank grains and oilseeds analyst, told Feed Strategy. "The penetration of commercial feed is rising. Also, given the previous high margins, hog farms were incentivized to raise hogs to much higher weights (over 150 kg live), which consumed greater quantities of feed. In the latter or second fattening stage, feed conversion ratio increases along with the weight."
For this year, Chiang said Chinese hog feed use had an "explosive" year-over-year growth during the first five months of 2021.
But, he said, "since the hog farming margins have been deteriorating quickly, it is expected that the growth will be slowing down in the second half of 2021, and especially in the third quarter. Whether the 2021 hog feed year-over-year growth rate will be 20%+ or 30%+ will depend on future pork price and uncertainties around a potential ASF resurgence in the next winter."
Regardless, he said hog feed use in China is expected to continue to grow, albeit at a slower pace, for several reasons.
"As industry consolidation goes on, penetration of commercial hog feed will increase," Chiang said. "But, meanwhile, farming efficiency will also improve, i.e. using less hog feed to produce the same quantities of pork, in the later stage of the rebuilding process. Therefore, in (the) forecast period, the demand growth for hog feed will gradually slow down, along with the farming structure changing towards larger-scale farming. Also, better animal genetics will save feed use."
New guidelines for pig, poultry feed
In April 2021, China's agriculture ministry issued new guidelines aimed at lowering the use of corn and soybean meal in pig and poultry feed. The guidelines include recommendations for alternative ingredients, "with the goal of improving the usage of available raw materials and creating a formula that better suits China's conditions."
The new guidance recommends rice, cassava rice bran, barley and sorghum as alternatives to corn. Acceptable alternatives to soybean meal include rapeseed meal, cottonseed meal, peanut meal, sunflower meal, distillers dried grains, palm meal, flax meal, sesame meal and corn processing byproducts. The guidance also suggests feed formulations based on the region of the country, such as reducing corn by at least 15% in pig rations in the Northeast by using rice and rice bran. In the southern region, it recommends using sorghum, cassava flour, rice bran meal and barley to replace corn in pig feed.
Chiang said Rabobank believes the administrative measures from the government might play a role in how these guidelines will affect feed production.
"But, the most important factors are relative prices, livestock farming margins and animal nutrition know-how, which could automatically incentivize feed mills to adjust the feed formulas (among different feed grains or different protein sources)," he said, adding that the guidelines will not lead to a massive change in China's grain and oilseed imports.
He cited several factors that will keep those imports at a high level:
Feed demand is still growing.
China has structural deficits in oilseeds and protein meals.
In near term, regardless of the projected rebound in domestic corn production, there will be a structural deficit of feed grains supply and demand, and that gap needs to be filled in by imports.
The government has strong incentives to replenish its grain and oilseeds inventory at reasonable prices, to build up a higher safe stock.
'Complicated' situation in Germany
ASF was first detected in wild boar in Germany early in September 2020. While none of the country's domestic pigs have been confirmed to have contracted the virus, the situation has created challenges for the German pig sector nonetheless. After the initial discovery of ASF in Germany, several countries including China, Japan, the Philippines and South Korea banned pork imports from there.
In addition to the challenges caused by ASF, COVID-19 restrictions also interrupted production at Germany's slaughterhouses. As a result, market-ready pigs were being held on farms longer than normal.
"The situation in Germany is quite complicated, as ASF and COVID-19 have both challenged the pig supply chain," said Justin Sherrard, global strategist-animal protein at Rabobank. "In my view, the trade bans on pork associated with the ASF dating back to September 2020 have had a bigger impact on pig prices (and hence margin), and therefore driving more change in feeding strategies, than the slow-downs in processing plants caused by COVID-19 in the middle period of 2020."
Five of Germany's feed manufacturers made the 2020 World's Top Feed Companies ranking. Together, they produced 9.7 million metric tons of compound feed last year. According to Alltech, Germany produced 24.9 million metric tons of feed in 2020.
Sherrard said Germany's feed demand will evolve with its pig herd which, in the coming years, will change in two ways.
"First is that overall production is expected to decline," he said. "Second is that new animal welfare requirements will change the way pigs are farmed/fattened, with more barn space allocated to each pig and access to outdoor ranging also permitted. Farmers will see their herds shrink as a result, and are likely to look for ways to increase their margin as a result, with implications for feeding strategies."
To view the full listing of 2020's World's Top Feed Companies, read the July/August issue of Feed Strategy.