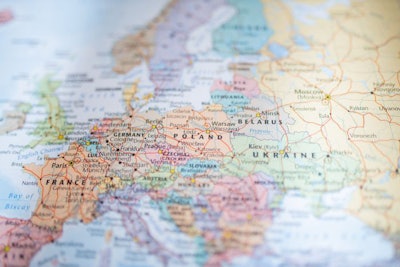 As new cases of African swine fever (ASF) come to light in Poland's farmed pigs and wild boar, more support will be offered to farmers, and disease testing capacity is being increased.
In response to the ongoing African swine fever (ASF) situation in the country, Poland has developed a new program to support pig farmers. In cooperation with other national agencies, the ministry of agriculture is to introduce new measures to support the country's pig rearers and breeders. Particular targets for this support will be the maintenance and reconstruction of small and medium-sized farms affected by ASF. Proposals will be presented at the next meeting on the agriculture and rural development committee.
Meanwhile, a new ASF diagnostic laboratory has been set up in the central Polish city of Wloclawek. A sixth such facility in the country, it will increase and speed up ASF testing capacity, according to the national chief veterinary office. A further lab is planned — to be located in the province of Lodz.
In the period July 21-27, seven new ASF outbreaks were confirmed in Poland by the veterinary office. Affected were herds in five different provinces, including larger farms with 963 pigs in Mazovia, and 1,668 in Lublin. Five other affected herds each had between 12 and 88 animals.
Latest cases bring Poland's total outbreaks in domestic pigs so far this year to 31. Just over 30,000 animals have been directly impacted by these outbreaks.
ASF outbreak total in Europe's domestic pigs in 2021 passes 700
So far this year, 726 outbreaks have been confirmed among domestic pigs, according to the latest update of the Animal Disease Information Notification System from the European Commission (EC; as of July 24).
Eight countries have now registered outbreaks in 2021, including Bulgaria, Estonia and Germany. These states confirmed their first cases of the year this month. While Bulgaria and Estonia have each recorded a single outbreak, Germany's total remains three outbreaks — all in the eastern state of Brandenburg.
According to national veterinary agency, the Friedrich-Loeffler Institute, there have been no new ASF-positive cases among Germany's domestic pigs since July 17.
After just one ASF outbreak in mid-July, Bulgaria's veterinary authority has already officially declared the disease situation in the country "resolved." According to the report to the World Organisation for Animal Health (OIE), the virus was detected at a farm in the eastern province of Varna on July 19. Of the 124 animals at the premises, 28 died and the rest were culled two days later.
The EC System does not cover disease developments in Russia.
Russia confirms ASF outbreaks in farmed pigs in six regions
Since the start of June, Russia's animal health authority has officially reported cases of ASF in domestic and/or wild pigs in 16 of its western regions. These cover the Northwestern, Central, and Volga federal districts.
Reports received by the OIE over the past week outline two outbreaks in Tula oblast, and one in the Mari El Republic. These represent the first ASF cases in these territories in 2021.
Furthermore, there were three more outbreaks confirmed in Yaroslavl, and one each in Kostroma, Tver and Smolensk.
With a herd of 365 pigs, one of the Yaroslavl outbreaks was at a farm. All of the other latest ASF outbreaks in Russia were in backyard herds of no more than 152 animals.
Further cases in domestic swine in Romania, Ukraine
Over the past week, a further 62 outbreaks of ASF in Romania have been confirmed to the OIE. These involved a total of 1,032 pigs, all belonging to backyard herds. The largest of the affected herds comprised 88 animals.
Meanwhile, there has been an update on the situation in Chernivtsi oblast in western Ukraine. In mid-July, all quarantine restrictions were lifted at two farms, according to the latest OIE report.
After an absence of three months, ASF had returned to this oblast in April, infecting two farms in the same district. First premises affected had around 23,000 pigs. Within two weeks, a second outbreak occurred at a nearby farm with 1,800 animals. Nine pigs died of the disease, and the rest were destroyed.
Overview of ASF situation in Europe's wild boar
As of July 24, 12 European countries had registered 8,148 ASF outbreaks in wild boar with the EC system in 2021. By far registering the most cases so far in 2021 is Hungary with 2,451 outbreaks. Poland's total has reached 1,989, and Slovakia's 1,260.
Also confirming new cases so far during July have been Germany (with a current total of 1,093 outbreaks so far this year), Romania (818), Bulgaria (187), Latvia (148), Lithuania (89) and Estonia (36).
Earlier this year, Italy, Serbia, and Ukraine registered cases in wild boar with the EC.
For comparison, 14 of the region's states recorded a total on 11,027 outbreaks during the whole of 2020.
ASF developments in wild boar cases across Europe
Total cases of ASF among wild boar in Germany reached 1,718 animals, as of July 26. Based on information from the respective administrations of the two states affected so far, this represents a rise of 110 cases since July 19.
Since the eastern state registered its first case of ASF in September 2020, the agriculture ministry of Brandenburg gives its total as 1,379 confirmed cases. With ASF virus-positive cases detected in five districts, Oder-Spree has been worst affected (732 cases).
Neighboring Saxony is the only other state in Germany where ASF-positive cases have been detected among wild boar. By July 26, its total had reached 339 cases, reported the agriculture ministry. All infected cases so far have been found in the district of Görlitz.
Over the past week, four other countries have registered new cases of ASF with the OIE. These were Hungary (27 animals), Latvia (12), Romania (8) and Russia (5). Russia's total comprises two further cases in Yaroslavl oblast, and one in Pskov oblast, as well as the first two cases of this year in Oryol oblast.
Oblasts Yaroslavl and Oryol are located in the Central federal district of Russia, while Pskov belongs to the Northwestern district.
After a four-month hiatus, a wild boar in Ukraine's Kherson oblast has tested positive for the ASF virus. According to official OIE report, the animal was found dead in a nature park near to the city of the same name.
UK carries out ASF contingency exercise
Last week, Operation Holly was carried out in the United Kingdom (U.K.), according to the department for the environment, food and rural affairs, Defra.
Involving the authorities in England, Wales, Scotland and Northern Ireland, the exercise aimed to test government contingency plans to contain and eliminate ASF if it were to reach the U.K.
The risk of the virus being brought into the country in animal products from affected countries is rated as "medium."
While the disease poses no threat to human health, it affects members of the pig family. As well as by animal-to-animal contact, the virus can be transmitted in feed.
"We regularly test our contingency plans in this way to ensure that we are ready to respond to potential future disease outbreaks," according to a joint statement from the chief veterinary officers of each territory. "Everyone can do their bit to help stop animal diseases spreading to this country through simple actions such as not bringing any pork products back to the U.K., and disposing of leftovers and food waste in secure bins that wildlife cannot access."
View our continuing coverage of the global African swine fever situation.