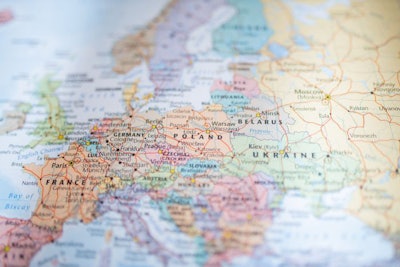 In response to the spread of African swine fever among wild boar to new districts, the European Union has authorized two countries to extend disease control restrictions.
After the spread of African swine fever (ASF) across several European Union (EU) states, the regulation covering special control measures for this disease has been amended to include new areas within the restriction zones. Under these measures, three zones relate to the degree of risk of transmitting the ASF virus. These are used to restrict the movement of live pigs and pork products to different degrees between neighboring areas.
According to the Official Journal of the European Union published last week, outbreaks of ASF have been confirmed in wild boar in new areas of Poland and Slovakia. Thus, three districts of Poland previously in restriction zone I (lowest risk) have been moved into zone II (medium risk). Similar amendments have been made with respect to four districts of Slovakia.
ASF cases in European domestic pigs passes milestone
According to the latest update of the Animal Disease Information System from the European Commission (EC), the number of ASF outbreaks in domestic pigs so far this year has passed the 500 milestone. As of June 5, this figure stands at 510. For comparison, the total was 1,240 for the whole of 2020.
Compared with the situation on May 23, the latest total is an increase of 25. All but one of these recent cases were in Romania, bringing the country's total to 470 outbreaks so far this year.
Over the past two weeks, Romania's animal health agency has registered nine new ASF outbreaks in domestic pigs with the World Organization for Animal Health (OIE). According to the official reports, these affected seven backyard herds in the northwest of the country, and two in central-southern Romania. Each affected herd comprised 2-5 pigs.
After just one confirmed outbreak of ASF on a farm in March, Ukraine's veterinary authority has declared to the OIE that the ASF situation has been "resolved" in the southern oblast of Vinnytsia.
Poland registers second ASF farm outbreak of 2021
Over the past week, Poland's chief veterinary office has announced one new outbreak in domestic pigs.
Affected was a commercial herd of 3,373 pigs in Miedzychod county in the province of Greater Poland (Wielkopolskie). Located in the west of the province, the county borders Lubusz, where around 60% of the country's outbreaks of ASF in wild boar so far this year have occurred.
Having registered 103 ASF outbreaks in domestic pigs in 2020, this latest brings the nation's total for this year to two. After a four-month hiatus, the previous cases were detected at a farm in Lubusz in mid-March.
EFSA publishes assessment of ASF risks of free-range pig farms
While keeping pigs outdoors is commonly practiced in Europe, information is limited. There had been no assessment of their ASF risk — until now.
Outdoor farms present a "substantial" risk of introducing and transmitting ASF, according to a new study by the European Food Safety Authority (EFSA).
However, this risk can be reduced by about 50% by constructing single solid or double fences around a free-range farm. This is the key recommendation of the EFSA Panel on Animal Health and Welfare for premises in areas where ASF is present.
As well as a comprehensive program of farm biosecurity, the panel suggests the possibility of registering outdoor premises based on their biosecurity risk. Even in ASF risk areas, highly biosecure outdoor pig farms could thus be authorized to operate. Currently, such activities are very heavily restricted.
Titled "African swine fever and outdoor farming of pigs," the Panel's scientific opinion has recently been published in the EFSA Journal.
Overview of the ASF situation in European wild boar
Latest update from the EC animal disease system puts the total for outbreaks of ASF among European wild boar so far this year at 6,965 (as of June 6). Compared with the previous update on May 23, this is an increase of 306.
In Europe, Hungary has been worst affected, recording 2,265 outbreaks so far in 2021. This is 101 more than the previous EC report. Registering the greatest rise in outbreaks over this period — 105 — is Poland, whose total now stands at 1,680.
Also registering new ASF outbreaks in their respective wild boar populations are Slovakia (new total: 1,091), Romania (752), Germany (734), Bulgaria (167), Latvia (110) and Lithuania (63).
Cases have also been confirmed in four other European states this year. However, none of those countries — Estonia, Italy, Lithuania and Serbia — has reported any new cases since April.
New outbreaks among wild boar of five European nations
Germany's total cases of ASF in wild boar now stands at 1,253 animals, based on information from the respective administrations of the two states affected so far.
With 1,049 confirmed cases since September 2020 (as of June 10), the eastern German state of Brandenburg continues to bear the brunt of the nation's ASF infections. Positive cases have been detected in five districts, according to the agriculture ministry. Worst affected is Oder-Spree with 580 cases.
Neighboring Saxony is the only other German state where ASF-positive cases have been detected among wild boar. By June 7, its total had reached 204 cases. This is an increase of six since May 23, reports the agriculture ministry. All infected cases so far have been found in the district of Görlitz. Germany's domestic pig population so far remains free of ASF.
In its latest updates on ASF cases among Polish wild boar, the nation's chief veterinary office has announced 186 further outbreaks. Involving a total of 286 animals, these were suspected cases found between April 27 and May 31 in nine provinces. They bring Poland's total outbreaks so far this year to 1,598, according to this source.
Over the past two weeks, the OIE has been notified of new cases in wild boar in Germany, Hungary, Latvia, and Romania.
View our continuing coverage of the global African swine fever situation.