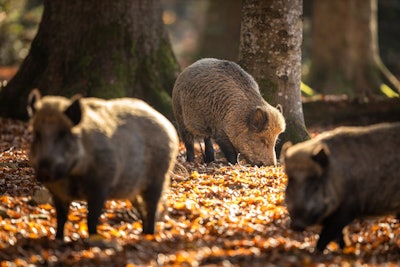 Romania is the only European country to report new cases in domestic pigs
New cases of African swine fever (ASF) have been registered in eight central and eastern European countries. Already more than 6,600 outbreaks have been officially confirmed so far this year, and the disease appears to have returned to one region of western Russia.
In Canada, one province is trying to gain control over wild and feral pigs, citing the many health risks these animals pose to other livestock, people, and wildlife. Although ASF virus has been detected in domestic pigs in four European countries so far this year, only Romania has reported new cases.
As of May 23, the European Commission (EC) Animal Disease Information System had been informed by European states about a total of 485 ASF outbreaks in domestic pigs so far this year. This is an increase of 22 from the previous update on May 8. All of these latest outbreaks were in Romania, bringing the country's total to 446 outbreaks so far this year. Other European states registering ASF outbreaks in domestic pigs with this system in 2021 are Serbia (33 outbreaks), Ukraine (five) and Poland (one).
Over the past two weeks, Romania's veterinary authority has registered 31 new ASF outbreaks in domestic swine. According to official reports to the World Organisation for Animal Health, almost all of these outbreaks were in small backyard herds. However, one affected premises was a registered holding with 42 pigs. While a few outbreaks occurred in mid-April, the most have been confirmed since early May.
Overview of the ASF situation in European wild boar
Latest update from the EC animal disease system puts the total for outbreaks of ASF among European wild boar so far this year at 6,659, as of May 23.
Compared with the previous update to May 8, this is an increase of 554. During the whole of 2020, total cases of ASF in Europe's wild boar recorded through this system reached 11,027.
In Europe, Hungary has been worst affected, recording 2,164 outbreaks for the year in 2021 — an increase of 135 from the previous EC report. Registering the greatest increase in outbreaks over this period is Poland, whose total now stands at 1,575. Slovakia's rise of 117 outbreaks put its total over the milestone of 1,000 outbreaks at a 1,066. Following are Romania (721), Germany (711), Bulgaria (163) and Latvia (103).
Cases have also been confirmed in four other European states this year — Estonia, Italy, Lithuania and Serbia — but their national totals stand at well below 100 outbreaks.
New outbreaks registered among wild boar
With 983 confirmed cases since September 2020, as of May 26, the eastern German state of Brandenburg continues to bear the brunt of the nation's ASF infections. Positive cases have been detected in five districts, according to the agriculture ministry. Of the total, 572 cases have been found in Oder-Spree, making this the worst-affected district for ASF-infected wild boar in Germany.
Neighboring Saxony is the only other state where ASF-positive cases have been detected among wild boar. By May 26, this total had reached 198. This is an increase of 12 since May 17, reports the agriculture ministry All infected cases so far have been found in the district of Görlitz. Germany's domestic pigs have so far remained free of ASF.
These latest cases bring the German total outbreaks in wild boar since September 2020 to 1,211.
In its most recent update on ASF cases in wild boar (to May 20), the chief veterinary office has confirmed a further 187 outbreaks. Involving a total of 277 animals, these were suspected between March 31 and May 7. Cases were detected in seven provinces. They bring the country's total outbreaks so far this year to 1,412.
During the past two weeks, OIE has been notified of new cases in wild boar by the national veterinary authorities of Germany, Hungary, Latvia, Romania and Russia.
Since mid-April, nine ASF-infected animals have been found dead at two locations in Russia. Both are located in Rostov oblast, which is in the Southern federal district. These were the first signs of ASF in this area since September 2020.
Canada takes action against wild boar
In Alberta, the authorities see wild boar as a serious threat to the province's pork and beef industries. These wild animals are known to host 89 different diseases that can be transmitted to other livestock, humans and wildlife, according to the Alberta Invasive Species Council. It says that an outbreak of foot and mouth disease in the province, for example, would halt exports of beef and pork. This could cost CAD65 billion (US$53.8 billion), according to the council.
For this reason, and because feral pigs and wild boar are among the most damaging invasive species in North America, the council is asking the public to report their observations of these animals, and any damage they have caused. The aim of this information gathering is to facilitate the simultaneous hunting of a whole group of the animals to eliminate them from an area effectively.
View our continuing coverage of the global African swine fever situation.