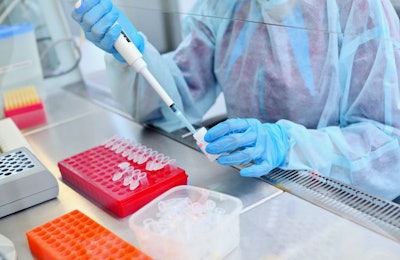 Work continues on the new National Bio and Agro-Defense Facility, but is set back 2-3 months because of pandemic
Despite delays related to the novel coronavirus (COVID-19) pandemic, construction of the first biosecurity level (BSL) 4 laboratory in the U.S. continues.
The U.S. Department of Agriculture (USDA) National Bio and Agro-Defense Facility (NBAF) in Manhattan, Kansas, will replace the aging Plum Island Animal Disease Center in New York when it is fully operational, which is scheduled to be in late 2023.
The US$1.25 billion facility will study animal diseases including African swine fever (ASF) and foot-and-mouth disease (FMD), will support the development of vaccines, and will provide diagnostic and training capabilities to protect the country's livestock.
The COVID-19-related delays are expected to set back construction by about two and a half months, according to Alfonso Clavijo, NBAF center director, who provided a project update on September 16.
He said cost increases that result from the delays can be covered by Department of Homeland Security (DHS) funding.
"We're working with DHS to assess any mitigation strategies in order to minimize this delay," he said.
Clavijo said 63% of NBAF operations staff has been onboarded. The facility will be run jointly by staff from USDA's Animal and Plant Health Inspection Service (APHIS) and USDA Agricultural Research Service (ARS). There will be 81 staff from APHIS and 200 from ARS.
Construction is projected to be completed by spring 2021 and commissioning is expected to be completed in summer 2021. After all certifications are in place and registration has been completed, by the end of 2022, the full transition from Plum Island is expected in August 2023 – if there are not further delays from the pandemic.
"We haven't assessed fully the impact of COVID-19 on this process," Clavijo said. "This is the timeline we have so far, but … it's very hard to estimate the full effect of COVID-19."
The Kansas site was announced in 2005 to replace the Plum Island facility. While Clavijo acknowledged the value of the work done at Plum Island since it opened in 1954, he said the facility was old and needed to be replaced.
"We are proud of the history and the accomplishment of the staff at Plum Island, but we also recognize that we need to move forward and develop a future in infectious diseases, and that will happen in a facility that will allow that work of the future scientists with the highest level of containment but also with the highest level of quality and safety," he said.
Once the transition from Plum Island to NBAF is complete, it will take several years to decommission, clean and decontaminate the former facility, Clavijo said.