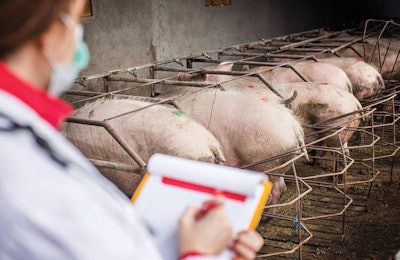 New cases of African swine fever have been confirmed in domestic pigs in Poland, Romania and Russia over the past week.
As Germany reported its first ever case of African swine fever (ASF) — in a wild boar carcass in the state of Brandenburg — three other European states confirmed new outbreaks in longer battles to control the disease.
There have been four new outbreaks among Poland's domestic pigs, according to the latest report from the chief veterinary office.
Among the latest outbreaks was one on a farm with 6,480 pigs in the Ostrada area of Warmia-Masuria. Also affected were one backyard and two small herds in Lublin and Subcarpathia (Podkarpackie). All these provinces are in the east of the country.
These latest outbreaks bring Poland's total so far this year to 83, involving more than 53,200 pigs.
Reporting outbreaks that occurred in July and early August, the agriculture ministry confirmed 26 ASF outbreaks to the World Organisation for Animal Health (OIE) over the past week. Affecting domestic pigs, these outbreaks directly affected slightly more than 9,400 animals. Two of the outbreaks were in Lubusz in the west of the country, while the others were in eastern provinces. All these regions had recorded previous ASF outbreaks.
Further outbreaks in Romania
Over the past week, Romania's veterinary authority has registered 36 new outbreaks of ASF in domestic pigs. According to the official report to the OIE, two of the affected premises were farms with 584 and 5,512 animals. Other outbreaks were in much smaller backyard units.
In total, almost 6,580 pigs were directly affected by these outbreaks.
New cases in Russian backyards
There have been two new outbreaks of ASF in Russian backyard herds, according to the latest report to the OIE.
Russia's agriculture ministry records a total of 73 pigs involved, including eight deaths. The affected herds were in Tula oblast (in the Central federal district) and Nizhny Novgorod (Volga district).
Overview of the ASF situation in Europe's domestic pigs
Up to September 6, there have been 753 outbreaks of ASF among domestic pigs in Europe since the start of 2020, according to the Animal Disease Notification System of the European Commission (EC).
The total has risen by 117 since the previous update, which was published two weeks previously. Of this increase, 87 new outbreaks were recorded in Romania, and 19 in Poland.
From this source, worst affected has been Romania (603 outbreaks). In second place is Poland with 82 registered outbreaks, while Bulgaria has recorded 18. Other countries that have recently reported ASF outbreaks in domestic pigs to the EC are Slovakia and Ukraine.
Europe's wild boar toll rises by 285
Over the past week, four European countries have reported to the OIE new ASF cases among their respective wild boar populations. In the period August 16 – September 2, 59 wild boar tested positive for the ASF in Hungary. There were also new cases in Russia (33 animals), Romania (15) and Latvia (12).
EC recorded 8,343 confirmed outbreaks of ASF in wild boar since the start of 2020 up to September 6. This represents an increase of 285 since August 26. During the whole of 2019, there were just over 6,400 confirmed cases in Europe.
According to this source, Hungary had recorded the most outbreaks — 3,455 — which is a jump of 109 from two weeks previously. At 3,152, Poland's total has risen by 116 over the same period.
Other European states to have confirmed recent ASF outbreaks to the EC so far this year are Romania (657), Bulgaria (408), Latvia (204), Lithuania (158), Slovakia (156) and Estonia (43).
Belgium, Italy, Moldova, Serbia and Ukraine registered ASF in wild boar earlier this year, but there have been no new cases in recent months.
View our continuing coverage of the global African swine fever situation.