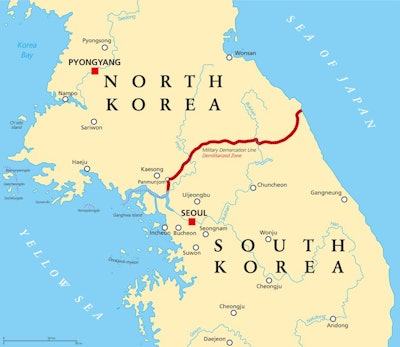 1 year after African swine fever reached South Korea, the authorities have given the green light for affected farms to resume production.
Approximately 11 months after its most recent cases of African swine fever (ASF) in domestic pigs, South Korea is set to reopen the affected farms. As a result, 261 premises in the northern provinces of Gangwon and Gyeonngi can shortly resume production, reports Yonhap. Before they can restock, farmers are required to disinfect their premises.
In the region between North Korea and South Korea, ASF spread rapidly from September 2019. To control the disease, 400,000 domestic pigs were culled. While this effectively halted the spread on farms, the disease continues to circulate among wild boar. So far, 736 wild boar from the inter-Korea area have tested positive for the ASF virus.
Reluctant to permit the resumption of pig farming, the South Korea government believes that the number of wild boar in these province is now so low that they do not pose a risk of infection for farmers.
As ASF was confirmed in Germany for the first time this week, South Korea is among the first nations to ban imports of pigs and pork from the country.
New outbreaks recorded in Russian Far East
Russia's agriculture ministry has recorded a further 11 outbreaks of ASF among domestic pigs in its Far Eastern federal district.
According to the official report to the World Organisation for Animal Health (OIE), one of the affected premises was a farm with almost 2,200 pigs in Yevreyskaya (Jewish Autonomous Oblast). Other outbreaks were among backyard herds of up to 38 animals. One of these backyards was in Kharabov, while the rest were in Primorsky krai.
Philippines culls 2,500 more pigs
In North Cotabato, authorities have culled a further 2,516 pigs, according to the Philippine News Agency. These animals belonged to 575 farmers, who will receive compensation for their animals.
Located on the island of Mindanao, this province is the only one in Philippines reported to have active transmission of the ASF virus. Outbreaks have been confirmed so far in 22 villages in four provincial towns and Kidapawan City. The local government is urging people not to bring any food from infected areas.
ASF epicenters identified in northeast Indian state
In the state of Meghalaya, 19 villages have been identified as epicenters for ASF, reports Northeast Now.
Within a 10-kilometer radius of each of these villages, movements are banned of people, pigs and farming equipment and supplies. Pig farmers are urged to exclude visitors, and to carry out regular disinfection of their premises.
Since ASF was first confirmed in this area between India and China, outbreaks have been recorded in Arunachal Pradesh and Assam. Approximately 17,000 pigs have been culled to prevent further transmission of the infection.
ASF under control in Vietnam
With around 98% of communities free of the disease, the ASF situation in Vietnam is reported to be under control, according to Vietnam News.
A senior official at the agriculture ministry reported 1,008 confirmed ASF outbreaks in Vietnam so far this year. Of these, 531 began in 2019, 450 were "recurrent outbreaks," and 27 were new outbreaks.
Cases were recorded in 44 of the country's regions, and more than 43,000 pigs have been culled. All recent cases have been among small herds, with commercial herds remaining free of the disease, according to the report.
Fifth outbreak this year in South Africa's Eastern Cape
After seven pigs died, a village herd of 50 pigs has tested positive for the ASF virus in Mnquma in East Cape Province.
According to reports to the OIE from the South African agriculture department, it brings the outbreaks to five in this region since May.
Nigeria reports continuing spread of ASF
Morbidity and mortality related to ASF are increasing in distribution in the states of Lagos and Abia, according to the federal agriculture ministry.
In its latest report to the OIE, the agency confirms that the infection has not spread to further states. Since an upsurge in serious infections in May and June, the disease has occurred in 12 of Nigeria's states.
View our continuing coverage of the global African swine fever situation.