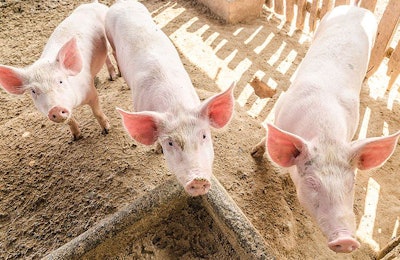 In India's Assam state, a widespread cull of domestic pigs is underway to control African swine fever.
In the northeast of India, the authorities in Assam are preparing to cull around 10,000 pigs.
According to The Telegraph, the measure aims to halt the further spread of African swine fever (ASF), which has already resulted in the death of an estimated 18,000 pigs in Assam since May. Local veterinary officials said there is no alternative to the cull if the state's thriving pig sector is to be saved.
Taking place in the coming week, the cull will affect pigs in 14 districts. Owners of the affected animals will receive a compensation payment of INR2,200-15,000 (US$30-206) per pig, depending on liveweight.
2 more farms hit by ASF in Nigeria
Although ASF has not spread to any additional states, the infection has been confirmed at two farms in Lagos state.
According to a new report to the World Organisation for Animal Health (OIE), pig deaths and illness are continuing at the highest level in Lagos and Abia.
Around four months ago, Nigeria's agriculture ministry registered a sudden increase in pig morbidity and mortality. ASF was identified as the cause, and the infection has now been reported in 12 southern and central states.
Further outbreaks confirmed in Russia's Far East
Thirteen new outbreaks of ASF have been confirmed in backyards herds in the Far Eastern federal district. In total, 189 pigs were affected, according to the official report from the agriculture ministry to the OIE.
Latest outbreaks occurred in regions where previous cases have been confirmed since August 2019. Affected were six backyards in Yevreyskaya (Jewish Autonomous oblast), four in Kharabovsk krai, and three in Primorsky krai.
More South Korean wild boar test positive for ASF virus
Over the past week, eight more wild boar in the northern border area have been infected with ASF.
All were found in Gangwon province — four in Inje county, three in Hwacheon, and there was a first case in Chuncheon.
Philippines city takes new steps to stop ASF
To prevent the spread of ASF to the region, officials in Borongan City have placed temporary restriction on live pigs and pork products from the islands of Luzon and Mindanao, reports the Philippines News Agency.
So far, there have been no cases of ASF among pigs in the area, which is in Eastern Samar province in the Eastern Visayas region.
A 60-day ban is now in place on pigs and pork entering from the restricted islands unless accompanied by several certificates indicating freedom from the ASF virus.
From China comes news that the agriculture ministry aims to standardize the production and use of test kits used to diagnose ASF before the start of next year.
View our continuing coverage of the global African swine fever situation.