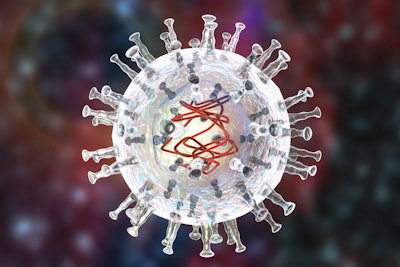 Clinical trials on 3,000 pigs show promising results, clinical and production trials will expand
China's African swine fever (ASF) vaccine trials have seen promising results and will advance to the next phase, the country's Ministry of Agriculture and Rural Affairs said.
The vaccine was developed by researchers at the Harbin Veterinary Research Institute at the Chinese Academy of Agricultural Sciences (CAAS). According to a CAAS researcher, clinical trials were conducted on 3,000 pigs from April to June.
"The vaccine was given to piglets and sows at 10 times and 100 times the proposed immunization dose," the South China Morning Post reported. "The experimental vaccine generated at least 80% immune protection, depending on the dose."
Throughout the 20-week trial, pigs that received the vaccination showed no clinical abnormalities or signs of disease.
The ministry said the CAAS would expand the clinical and production trial stage, with a goal of completing trials "soon." It is unknown when the vaccine would be available on the market if the expanded trials are successful.
Gene deletion
Feed Strategy reported in March that the CAAS team compared six vaccine candidates and identified one that appears particularly promising. The vaccine requires the deletion of seven genes identified in previous work as key to the development of a potential vaccine.
By deleting seven key genes from a particular strain of the ASF virus, the researchers identified a vaccine candidate they and other scientists say appears to hold promise for addressing ASF. The potential vaccine has passed an initial series of tests demonstrating its safety and efficacy in preventing ASF, according to a March 2020 report in Science China Life Sciences.
An initial series of five trials in domestic pigs showed that the vaccine appears to provide long-term protection from ASF, and initially triggers no or minimal symptoms in the immunized pigs. Studies also suggest that pigs that receive the vaccine do not become contagious and spread the virus to other swine.
8.2 million animals lost to ASF
This month marks the second anniversary of the first cases of ASF in China. Since then, ASF has been detected in 60 countries: 30 in Africa, 16 in Europe and 14 in Asia, according to the latest review of the global situation from the World Organisation for Animal Health (OIE). The total number of pigs lost to ASF worldwide over the period now stands at more than 8.2 million animals.
View our continuing coverage of the African swine fever outbreak.