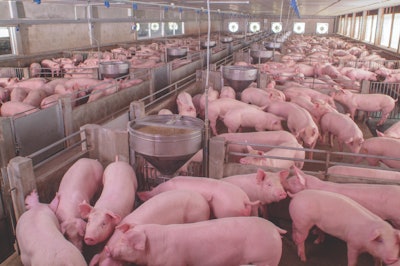 Latest ASF study concludes the virus may not spread in animal feed as easily as previous research suggests
The latest study of African swine fever (ASF) in animal feed bears good news for the study's subjects, but raises additional uncertainty about how the virus spreads.
To replicate previous research that indicated a relatively low dose of the ASF virus could infect swine if present in feed, a team of researchers from the Animal Health Research Center in Spain and APC, a manufacturer of blood-derived functional plasma proteins, fed 30 pigs commercial feed mixed with a liquid unprocessed plasma contaminated with ASF. The contaminated plasma contained either the minimum infectious dose implicated by previous papers, or a higher dose.
However, after 14 days of continuous feeding, none of the pigs in the study fell ill with ASF, according to the paper, published in the journal PLOS One.
The results suggest that the minimum dose of ASF that is capable of sickening animals if present in animal feed is probably higher than previously reported, according to Javier Polo, vice president of research and development at APC. However, he noted that the APC study involved several key differences from past studies, including the use of liquid unprocessed plasma instead of spray-dried plasma.
"It is unknown if spray-dried plasma provided in feed could reduce incidence of ASFV transmission or expedite ASFV clearance in surviving infected pigs," Polo wrote in an email. "This is an area in which we are interested to research."
Additionally, the APC study used commercially processed feed in meal form, skipping processing steps such as pelletization that could further reduce the risk of ASF.
Until additional research is completed, Polo said, the bottom line is that "feed and feed ingredient suppliers using good manufacturing practices including high biosafety standards represent a very low risk of ASFV spread."
But additional research will be necessary to better understand the main ways ASF spreads, and how the transmission of the disease can be mitigated in production settings, he said.
View our continuing coverage of the African swine fever outbreak.