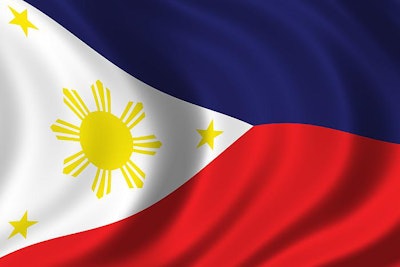 Authorities in Laos have declared that the disease situation has been resolved.
In the Philippines, African swine fever (ASF) continues to spread in North Cotabato province on the island of Mindanao.
Despite movement controls on live pigs and pork products in the area, the virus has been detected in a village near Arakan. According to Philippine News Agency (PNA), one of several samples taken in the area has tested positive for the ASF virus. The result prompted an extension of the restrictions to the area, which borders the Davao city region.
Elsewhere in North Cotabato, new cases of ASF have resulted in the control area around Magpet being spread to cover a further two villages. More than 1,300 pigs have been depopulated in the area, which now covers 11 communities.
PNA reports that Kidapawan City and President Roxas town are now implementing "maximum precautions" along their boundaries to stop the disease spreading further.
Losses to affected pig owners in the area have already reached PHP6.6 million (US$135,500). Farmers are being urged to get their animals tested if they are within one kilometer of a known outbreak. Animals testing positive for the virus must be culled, and not sold, said a local official.
In the Philippines, there are 365 ongoing ASF outbreaks involving almost 298,000 pigs, according to the World Organisation for Animal Health (OIE).
ASF spreads to third Indian state
ASF has spread to another state, reports Outlook India. A total of 24 animals that died in 12 villages in Meghalaya have tested positive for the virus, and a further 49 mortalities are being investigated.
In order to prevent further spread of the infection, all affected villages will be regarded as disease containment zones, said a local official. Movements of pigs have been banned between districts and states.
Source of the infection in Meghalaya is uncertain, but senior official said it may have entered from Assam.
In May, ASF was first reported in India — in neighboring northeastern states of Assam and Arunachal Pradesh. Already by the end of May, it was reported that 17,000 pigs in Assam had died of ASF, and 4,500 in Arunachal Pradesh. ASF was thought to have been present in the two states since late January.
According to the OIE, 11 ASF outbreaks are ongoing in India, and around 3,700 pigs have been directly affected by the disease.
Further cases in Russia's Far East
Five more backyard pig herds in the Far East federal district have been affected by ASF, according to the latest official report to the OIE.
In herds of up to seven animals, a total of 14 pigs were involved in these outbreaks. They include the first cases in Khabarovsk krai. In addition, there were further outbreaks in Primorsky krai, and Yevreyskaya (Jewish Autonomous oblast).
ASF has now been present in this region of Russia for one year.
Shortage of funds hampers ASF control in Papua New Guinea
Measures to control the spread of ASF in Papua New Guinea are being held back by a lack of funding, reports Post-Courier.
Despite diverting some of its own funds, and funding from the government and overseas agencies, activities by the National Agriculture Quarantine and Inspection Authority (NAQIA) are being held back. The Authority says it needs additional resources to boost awareness of ASF, and community outreach.
So far, the disease has hit pig herds in three provinces — Hela, Enga, and Southern Highlands. Around 400 pigs have been lost to the disease, affecting the economy and culture of rural communities.
South Korean wild boar toll exceeds 700
Over the past week, South Korea's agriculture ministry has reported to the OIE a further 10 cases of ASF among its wild boar population. The majority of these latest cases were found in the Hwacheon district of Gangwon province. Others were located in other districts or in Gyeonggi – all in districts where previous cases have been confirmed.
These latest cases bring the total so far to more than 700, based on official records.
There have been no new cases among domestic pigs in South Korea since October 2019.
Laos declares ASF 'resolved'
ASF has been "resolved" in five regions of Laos, according to the latest official declaration to the OIE.
Between June and August 2019, the agriculture ministry registered a total of 139 outbreaks of ASF. These affected village herds in five regions across the country. Almost 38,000 pigs were involved in these outbreaks, as well as six wild forest pigs. No cases have been confirmed since early October 2019.
Researchers in the U.S. have developed a new method of ASF testing. They say it could result in faster and more widespread testing for the disease.
View our continuing coverage of the global African swine fever situation.