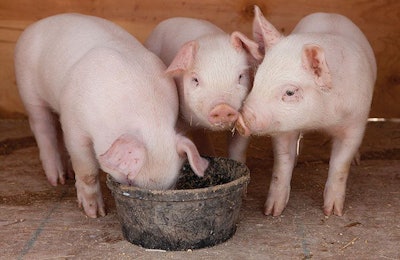 Nearly 4,000 pigs at 3 farms will be culled
South Korea has confirmed its first case of African swine fever (ASF) in a town near the border with North Korea and said it would cull nearly 4,000 pigs in response.
Additionally, the country's agriculture ministry raised its animal disease alert to the highest level and a 48-hour nationwide lockdown on pig movements on farms and in slaughterhouses was imposed. Across the country, 6,300 pig farms will be disinfected.
"We will make all efforts to stop the spread of African swine fever through swift disinfection measures," said South Korea's Agriculture Minister Kim Hyeon-soo.
The disease was confirmed after several pigs died at a farm in Paju, Gyeonggi Province. Pigs at that farm, as well as two others about 12 miles away, will be culled. Kim said an investigation was underway to determine the source of the outbreak.
"The owner of the farm where the disease broke out did not use leftover food," according to a report from Yonhap News Agency. "The farm has no windows and it has fences to prevent possible contact between his pigs and wild boars. The owner of the farm has never visited a foreign country, according to Kim."
Pork the most popular meat in South Korea
According to Reuters, South Korea's pig population is 11.3 million. Pork is the country's most consumed meat, with pork consumption per person in 2018 at 27 kilograms.
So far this year, South Korea imported 374,961 tons of pork, down 3.6% from 388,772 tons over the same period a year earlier, according to customs data. In 2018, South Korea's pork imports were more than 570,000 tons. It mostly imports pork from the U.S. and Germany.
North Korea reported its first ASF outbreak in May at Buksang cooperative farm in the province of Chagang, which borders China, but the source of the infection was unknown at the time of the report.
In June, concerned about the risk of the ASF virus spreading from North Korea, South Korea set up quarantine facilities in the border area and disinfected hog farms to the south of the Demilitarized Zone.
View our continuing coverage of the African swine fever outbreak.