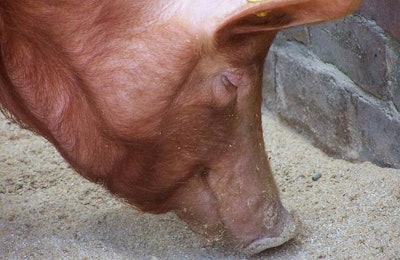 Feed demand is down, but pork industry profits likely to soar, USDA says
A dramatic, seven-month decline in the size of China's pig herd, driven by African swine fever (ASF), has caused Chinese soybean meal consumption to drop to a four-year low, according to a September 4 report from the U.S. Department of Agriculture (USDA).
Despite the decreased pig population — which USDA anticipates will continue to shrink — overall feed demand in China has only seen a marginal decline, with demand offset by increased production in other species, including broilers, layers, ruminants and aquaculture. The broiler industry, according to USDA, has experienced significant growth.
That growth, however, has not translated to increased soybean imports, which are expected to hit a five-year low between September and October. Chinese farmers expanded their soybean acreage this year in response to government subsidies, and favorable weather has further boosted soybean production, which is reported to have increased 20% in some areas.
Increased domestic production has further offset imports, which have decreased 15% since October 2018. Imports of U.S. soybeans are less than a quarter of last year's levels, according to USDA.
Sow and hog populations dropped steadily through the first seven months of 2019, according to the report. Overall, the Chinese herd was some 30% smaller this July than in 2018, and the price of live hogs hit $143 per head in late August, more than tripling from just three months prior. This has increased Chinese hog farmers' profits, which has encouraged farmers to increase inclusion of soybean meal to promote faster weight gain in hogs.
The USDA, however, predicts that the herd's decline has yet to bottom out.
"The negative trend has likely not reached its floor," the report says, "despite government efforts to encourage producers to restock."
View our continuing coverage of the African swine fever outbreak.