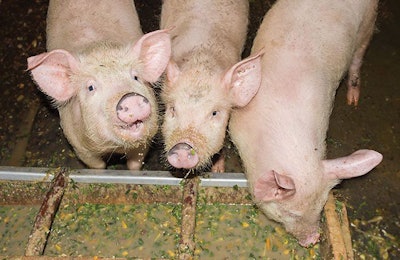 Policies include coverage for losses resulting from various pig diseases
Insurers are rolling out policies designed to protect pig farmers from potential losses that can result from the African swine fever (ASF) virus.
The virus, which has spread across Asia and parts of Europe and Africa throughout the past year, does not pose a health risk to humans, but is nearly 100% fatal in pigs. It has caused devastating losses for the pig industry in China, in particular.
Carmel, Indiana-based James Allen Insurance offers insurance policies against ASF, as well as foot-and-mouth disease (FMD).
"These viruses have the potential to significantly disrupt and damage large swaths of the agriculture industry," James Allen says on its website. "There is no vaccine to protect against ASF. Don't let your operation be destroyed."
James Allen's policies cover financial losses of operation from mortality, reduction in weight and reduction in pig value. Its policy can insure 10% or more of an operation's production value with premiums beginning at $1,500 for $500,000 worth of coverage.
New York-based Marsh & McLennan Agency (MMA) offers a specialized disease policy, which protects against ASF, as well as porcine epidemic diarrhea (PED) virus and porcine reproductive and respiratory syndrome (PRRS).
On its website, MMA says a typical mortality policy was not designed for, and does not cover, disease. But a specialized disease policy can cover losses associated with pig disease.
"Purchasing ASF coverage as a form of risk management is something all swine producers should consider," MMA's website says.
European groups exploring coverage options
This year, Danish pork producer Goodvalley and the U.K.'s National Pig Association (NPA) said they were exploring ASF insurance options and were consulting with their members to find an appropriate insurance solution.
"To date and to the best of our knowledge, there is not an ASF insurance solution in the U.K. market, so we are seeking to establish the level of demand for such a product, the key insurance needs and what would be a viable insurance price point," NPA said in a statement.
"Right now, we are collecting material to be used as a basis for us to get a good offer for an insurance against African swine fever and other diseases such as PRRS, PEDv and classical swine fever," Goodvalley said in January. It has not published an update on those efforts.
View our continuing coverage of the African swine fever outbreak.