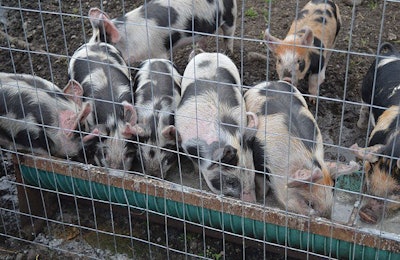 The Ames, Iowa-based Swine Health Information Center (SHIC) has been notified of a new Seneca Valley A (SVA) outbreak in pigs in Brazil.
Brazil previously went through an SVA outbreak during late fall and winter of 2014-15, as did the U.S. in 2015.
At that time, the virus was found through polymerase chain reaction (PCR) tests in feed mill supplies such as mixed meat and bone meal, soybean meal and feed for finishing pigs.
This is cause for concern as swine in other regions might be at risk as a result of products shipped from infected areas for use in commercial hog feed. Another report said experts know SVA would survive in shipment.
"Research has demonstrated the ability for certain feed ingredients to support viral survival during conditions modeled after either trans-Atlantic or trans-Pacific shipping to U.S. ports and on to locations likely to manufacture feed for swine," said Paul Sundberg, DVM, director of the SHIC, when discussing African swine fever, another swine-related health issue.
A 2016 report explained that the industry knew from experience that SVA does not do well during the cold winter months. Idiopathic vesicular disease outbreaks in swine tend to be seasonal — occurring during the warmer months. This outbreak of SVA is following suit, as January is a summer month in Brazil.
Current outbreak
Most current cases initially were in finishing pigs; however, hogs of all ages have been diagnosed with the virus. Farrowing sites with suckling piglet mortality rates approaching 30 percent have been reported.
The lesions generated by SVA are usually very severe. They may result in completely detached hooves, and healing is delayed, sometimes taking more than 10 weeks, according to a report from Gustavo Simao of pig genetics company Agroceres PIC in Brazil.
Researchers are working to find a similarity between the current outbreak and previous ones. Simao's report said.
"One question that is still open is whether there is a new mutant SVA circulating in Brazil, with greater pathogenicity, or if this was just a fall in immunity of the Brazilian herd after these three years between the two outbreaks."