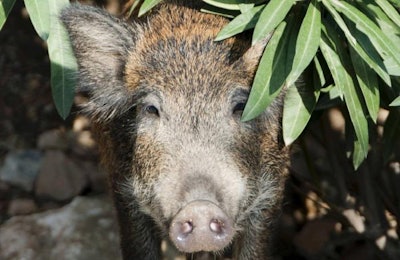 For the first time since African swine fever (ASF) first broke out in the country last year, China's veterinary authorities have begun to lift movement restrictions. This is despite the fact that new cases continue to be detected there, as well as in Ukraine, and in the wild boar populations of Belgium and Poland.
Since the first ASF cases in August, 916,000 pigs have been culled in China as of January 14, reports Xinhua. According to an agriculture ministry official, there are movement bans for pigs in 77 areas in 21 regions. Outbreaks were described as "sporadic and not at epidemic proportions."
In China, the first cases were found in the northeastern province of Liaoning. According to the official report to the World Organisation for Animal Health (OIE), the disease situation there has been resolved, along with in the provinces of Anhui, Jilin, Henan, Jiangsu, Zhejiang and Yunnan. Movement bans and other controls were lifted after extensive testing of pigs in each area revealed no more positive cases.
It may be premature to declare that the ASF situation throughout China has been resolved. Within the past week, the agriculture ministry in Beijing has confirmed the first cases of the disease in Gansu province in central China, where nine animals in a backyard herd died and the remaining 100 pigs were destroyed. Furthermore, there was a new outbreak in Jiangsu province, where almost 69,000 pigs at a farm in the Suqian district were lost to the disease through mortality or culling.
More ASF cases in Europe
After a five-month absence, ASF has returned to the central Ukrainian region of Dnipropetrovsk. According to the official report from the state animal health service to the OIE, seven animals of a small backyard pig herd died this month. The survivors were culled after the presence of the ASF virus was confirmed.
In Poland, 144 wild boar tested positive for the virus between November 25 and December 11 last year. The animals were found dead at 67 locations in the regions of Warmia-Masuri, Mazovia, Podlaskie and Lublin, where ASF control measures are already in place after previous outbreaks.
A total of 44 wild boar have tested positive for the ASF virus in Belgium between December 19 and January 10. According to the official report to the OIE, the animals were found at 25 locations, all in the province of Luxembourg, where previous cases have been detected.
Latest figures from the Belgian food safety agency, AFSCA, put the total number of wild boar affected by the ASF virus in the country since September 2018 at 299.
View our continuing coverage of the African swine fever outbreak.