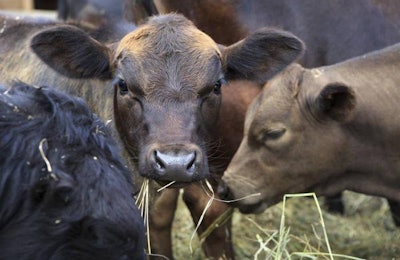 Rabobank report cites 5 promising technology and management areas to reduce greenhouse gas emissions from cattle production
Feed additives and feeding practices are among the factors that have the greatest potential to contribute to reductions in greenhouse gas (GHG) emissions from cattle production, Rabobank said in a new report.
The report, "Greenhouse Gas Emissions in Beef Supply Chains: Significant Opportunities for Reductions and Supply Chain Leadership," says emissions from global beef supply chains have the potential to be reduced by more than 30% by 2030.
"An accelerated technology and incentive scenario would unlock emissions reductions closer to 40%," the report notes.
Adjustments to cattle diets, including increasing corn silage, adding tannin-rich forages and increasing the level of concentrates to forages, as well as the use of feed additives and nutritional supplements, can reduce GHG emissions.
Adding nitrates to cattle diets can reduce methane emissions and improve animal performance, adding eligible additives can increase fat content, and utilizing feed additives to lower emissions are all practices that can be applied, the report said.
"The potential of various technologies to reduce emissions ranges from 10% to 90% reduction, which shows that it is possible to significantly reduce emissions without limiting herd numbers," the report said.
There are several methane-reducing feed additives on the market, including ones based on garlic and citrus, clover and coriander seed, 3-Nitrooxypropanol, and seaweeds.
Other practices and technologies cited in the report include:
Genetics, genomics and breeding: This includes crossbreeding beef breed bulls with diary cows to optimize genetics, genetic selection for traits that reduce emissions, and utilizing dual-purpose milk and meat breeds.
Smart technology: This includes wearable technology to capture methane and software that can improve on-farm productivity and optimize supply chain performance.
Soil and vegetation management: This includes regenerative agriculture and grassland carbon sequestration.
Manure management: This includes biogas installations and using methane as a feedstock to manufacture alternative proteins.
The report cited several companies in the beef supply chain that are making commitments and taking action to reduce GHG emissions, including Finland-based Atria Farms, which uses animal feed based on local, farm-produced grains and grass instead of imported ingredients, and Netherlands-based FrieslandCampina, which is working with Barry Callebaut, feed additive producer Agolin and feed producer Agrifirm to test a feed additive to reduce methane emissions.