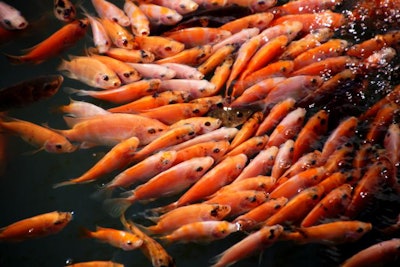 Expert shares the 4 pillars used by Alltech Coppens to quantify alternative ingredients
The aquaculture industry is growing rapidly, increasing demand for good quality aquafeed. The challenge for the aquaculture industry, according to one expert, is to feed a growing number of farmed fish with a limited supply of fishmeal.
According to Ben Lamberigts, quality, research and nutrition manager at Alltech Coppens, we need more alternatives to fishmeal. He spoke during the Alltech ONE Virtual Experience.
"In different categories, we have hemoglobin, blood meal or poultry meal as animal byproducts. We have sunflower meal, wheat protein, soy products, as vegetable protein sources. We have our famous insect meals, meal worm, black soldier fly meal. And we also, of course, have our byproducts from human consumption industry fish byproducts or salmon," he said.
None of the most commonly farmed fish have a specific need for a raw material in its diet, but they have requirements for essential nutrients.
"They need digestible protein. They need energy as fat. They need vitamins, available minerals. They also need the feed to be palatable, so the feed needs to be eaten by the fish," he said.
In measuring the alternatives to fishmeal, Lamberigts said Alltech Coppens uses four pillars: palatability, performance, pollution control and planet.
"If we then quantify and measure all these pillars, all these metrics, and we put them in a software system, we can simply make the best combination of our alternative protein sources in combination with the fishmeal at the lowest price … for the best quality," he said.
Palatability is the most important quality "because if the food is not eaten by the fish, there is no performance and pollution control is very bad."
By quantifying the net energy of different raw materials, they can be compared for the best performance.
"Performance is also something we quantified, and quantifying performance is, of course, complicated because we have to take into account the protein level, the vitamins, the minerals. But to keep it simple to explain it today, I took the example of energy. Energy is the driver of growth. If we increase the energy level, the feed conversion goes down and the growth of the animal increases," Lamberigts said.
Pollution control is the most complicated of the four pillars, he said, because there are a lot of interactions. If feed is not eaten by the fish, it is polluting the water. The excretion of ammonia, nitrogen and phosphorus can also contribute to pollution. Additionally, the fat content in feed can also pollute the water.
The pillar of "planet" refers to the agricultural impact of the industry.
"It's becoming a necessity that we quantify the effect of our products, of our raw materials, of our fishmeal alternatives on the environmental impact," he said, adding that this can be done by using a life cycle assessment of each specific raw material.
By quantifying these ingredients, Lamberigts said they can be better utilized.
"Alternatives to fishmeal are not alternatives, they are ingredients," he said. "If it's insect meal, soy protein, poultry meal, if we are able to quantify the metrics behind these ingredients, we are also able to use them in the proper way. If it comes to sustainability, pollution control, performance, palatability, we are now able to use these different alternatives and these different fishmeals in the correct way to assure the growth of our aquafeed industry."