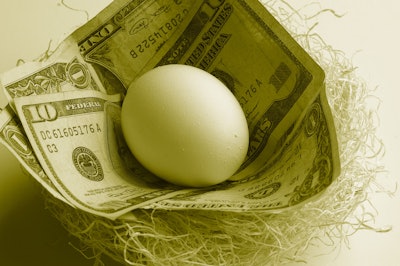 zimmytws | BigStockPhoto.com
Orbem GmbH raised GBP30 million in a series A funding round. The funding will be used to further develop its artificial intelligence (AI)-powered MRI technology to sex male layer chicks.
"Our mission is to unleash AI-powered imaging for everything and everyone. We believe this is the best way to carry out our core purpose of shedding light on the world's toughest challenges," Pedro Gómez, co-founder and CEO of Orbem, said in a statement.
"With GBP30 million in funding, we will have the utmost flexibility to realize our vision of deploying AI-powered imaging to sustainably address global food security, accelerate the transition to a green economy and transform disease detection."
According to a presentation at the 2021 Poultry Tech Summit Webinar Series, the system uses AI to speed up the process of scanning and classification performed by MRI. The technology can identify internal and external features of each egg without touching them at a 99% accuracy rate.
Approximately 6-7 billion male layer chicks are culled each year, a major animal welfare and economic concern for the layer industry. Animal welfare organizations have pressured the egg industry to find an alternative approach.
Investors in the series A funding round include global venture capital firm 83North, La Famiglia, The Venture Collective, Possible Ventures and Dr. Rüdiger Schmidt.
"Orbem has harnessed AI to industrialize MRI technology, unlocking the potential to revolutionize food production, expedite the transition toward a sustainable economy, and enhance disease detection. It is a great pleasure joining this amazing crew on a journey to a better world," said Gil Goren, general partner at 83North.
Attend the 2023 Poultry Tech Summit
Join an exclusive international gathering of industry-changing innovators, researchers, entrepreneurs, technology experts, investors and leading poultry producers at the 2023 edition of Poultry Tech Summit on November 6-8 at the Hilton Atlanta Airport in Atlanta, Georgia.
Attendees can expect the same groundbreaking innovation and insightful presentations that made the previous events well-attended with deep dialogue on new prospective solutions and next-generation technologies. Poultry Tech Summit focuses on the transition of innovative technologies into commercial applications to advance the poultry industry.
Registration for this event is now open.