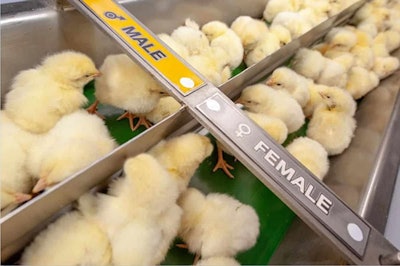 Eshet Eilon
Diversified Agriculture has entered into a strategic partnership to bring Eshet Eilon's electro-optical broiler chick sexing technology to the North American poultry market.
According to the agreement, Diversified Agriculture has obtained exclusive rights to distribute the system in North America.
How electro-optical chick sexing works
Electro-optical chick sexing technology, presented at the 2022 Poultry Tech Summit, uses reflected light captured by high-quality digital cameras to sort the broiler chicks according to their feather pattern by sex, as well as by weight and external defects.
Currently, all chick sexing in the poultry industry is conducted manually, which can be costly. In addition, it is becoming difficult to find and retain workers that are experienced at sorting. Automating the process can help solve these issues.
"Because advantages are so big in separating the broiler chicks by sex, companies don't need to justify this, but they don't want to spend a lot of money in hiring people to separate the chicks," Menashe Tamir, CEO, Eshet Eilon, said.
Electro-optical sex sorting technology offers several benefits for poultry operations, including reduced feed and improved feed conversion ratio (FCR), a more uniform product at the processing stage and improved animal welfare.
The first commercial installation for the electro-optical sexing technology is scheduled for completion in Israel in January 2024. The technology already holds a U.S. patent.
Attend the 2023 Poultry Tech Summit
Join an exclusive international gathering of industry-changing innovators, researchers, entrepreneurs, technology experts, investors and leading poultry producers at the 2023 edition of Poultry Tech Summit on November 6-8 at the Hilton Atlanta Airport in Atlanta, Georgia.
Attendees can expect the same groundbreaking innovation and insightful presentations that made the previous events well-attended with deep dialogue on new prospective solutions and next-generation technologies. Poultry Tech Summit focuses on the transition of innovative technologies into commercial applications to advance the poultry industry.
Registration for this event is now open.