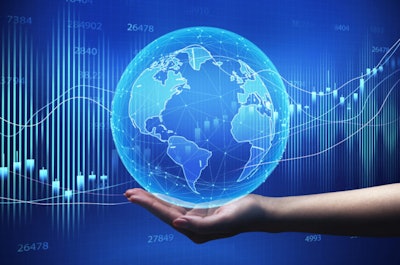 High production costs, consumer uncertainty, animal disease, war in Ukraine all put pressure on producers
With an imbalance in global supply and demand for pork and uncertainty due to weather conditions in some regions and the war in Ukraine, the global pork industry is expected to see slow growth in the second half of 2022, according to a new report from Rabobank.
In its Global Pork Quarterly for the second quarter of 2022, Rabobank said consumer demand is mixed due to varied pandemic emergence around the world, and global pork trade is expected to decline because of weaker economic trends and ample supply.
Overall production costs, including feed, energy, freight and labor, are pressuring producers in most regions. However, record hog prices in North America are helping to offset some of these costs, the report said.
Inflation, uncertainty and animal disease are also putting pressure on producers, with additional disease-related production loss expected in parts of North America, the EU and Southeast Asia in the second half.
"Rabobank expects a slowdown in global pork production growth in 2022, as productivity challenges, poor returns and uncertain consumer demand weigh on expansion," the report said.
Higher pork prices are contributing to the uncertainty in consumer demand, while packers may have difficulty passing on higher operating costs due to expected consumer weakness.
Regional breakdown
In the U.S., "pork prices are down from their February highs and are 3% below year-ago levels, but remain 32% above the five-year average," the report said.
As retail prices rise due to packers' cost pressures, "consumers are expected to reduce consumption or trade down to lower-cost proteins – especially given widespread inflationary pressures," the report said.
In Mexico, higher cost pressures are expected to limit herd expansion and possibly lead to more consolidation. Pork import volumes in 2021 in Mexico were up 21% year over year, and import volumes remained strong early this year while pork import values were trending lower. Export values are moving higher while export volumes are down 22% from a year ago.
In China, pork demand is expected to stay weak throughout the second quarter of the year due to COVID-19 restrictions.
"Quarantine measures have significantly impacted foodservice, group dining and business activities. They have also impacted the logistics for retail and delivery by ecommerce players in some regions," the report said. "As a result, consumption has been volatile."
Outbreaks of classical swine fever in Japan, as well as cold weather, are expected to contribute to a decline in pork production in the second quarter. Production is expected to recover from June, but many producers are reluctant to invest in their business due to rising feed prices and margin pressure, Rabobank said.
In Europe, contracting supply and market uncertainties due to the war in Ukraine contributed to an "explosion" in pig and piglet prices, the report said. However, margin pressures will remain due to high commodity prices stemming from the war.
"As export flows from Ukraine, a major supplier of corn to the EU, are temporarily blocked, feed companies are having to pay more to secure alternative supplies on the global market," Rabobank said.
In Brazil, high feed prices are the main concern for producers, but strong exports in recent years and higher domestic consumption "has made pork production very attractive."