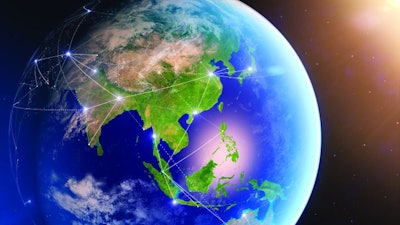 First outbreak of African swine fever (ASF) in pigs has been reported in one Western Malaysia state and, in Eastern Malaysia, the virus has been detected in pigs and at a slaughterhouse in two districts in Sarawak.
Last week, two pigs out of a herd of 275 animals tested positive for African swine fever (ASF) at a farm in Malaysia after showing signs of fever.
According to Malay Mail, the farm in the state of Negeri Sembilan was unlicensed. This led the state authorities to order a ban on the transportation of all pigs and pig meat in the area. Furthermore, monitoring of the health of all pigs within a five-kilometer radius of the infected site near Port Dickson is to be stepped up.
Negeri Sembilan is located on the west coast of Peninsular Malaysia (Western Malaysia).
There are around 20 similarly unlicensed pig farms in the area, reported The Sun Daily. Authorities told the owners to stop production after indications that several of them had recently purchased pigs from Perak. This a state to the north of Negeri Sembilan.
Based on official reports from the Malaysian veterinary authority, 20 outbreaks of ASF occurred in Western Malaysia between early November and the end of December 2021. This is according to notifications to the World Organisation for Animal Health (OIE). Involved were wild pigs in the states of Perak and Pahang, as well as domestic animals at 11 premises in Malacca (Melaka). More than 10,000 pigs were affected by these outbreaks.
Further control areas set up in Eastern Malaysia
On the island of Borneo, new control areas have been set up in two divisions of Sarawak.
Authorities in the Malaysian state took the action after Indonesia has reported new cases of ASF in its West Kalimantan region, reports The Borneo Post. The Sarawak divisions of Sri Aman and Serian border this region of Indonesia on the island of Borneo.
Subsequently, the same source reported that pigs in two villages in Serian have tested positive for ASF.
Also in Sarawak, ASF virus was detected last week at a slaughterhouse in Kropok. Located in Miri division, the premises has been closed by officials for thorough cleaning and disinfection.
To ensure adequate supplies of meat in Miri, pork will be brought into the area from the state's only ASF-free divisions — Kuching and Samarahan.
Caution urged in the Philippines
Ahead of the Holy Week holidays, authorities are warning people across the country not to transport pork from one area to another, reports the Philippine News Agency (PNA).
While cases of ASF are well down from their peak, there are still active cases in seven municipalities in four provinces in two regions, according to the Department of Agriculture.
Meanwhile, an official from the department has expressed optimism about the prospect of vaccination against ASF using a vaccine developed in Thailand.
In the Soccsksargan region in the south of the island of Mindanao, new cases of ASF have been reported.
After a prolonged period free of the disease, ASF has been detected again at a village hog farm in the province of Sarangani. According to PNA, blood samples from pigs there were positive for the virus after several animals died there. Later, 39 pigs were culled to protect other backyard herds in the vicinity. Throughout Soccsksargan, transportation of pigs and pork has been suspended. Authorities are urging pig owners to report officially any suspected cases.
In neighboring South Cotabato, reports PNA, ASF has been detected among around 200 pigs in three villages. Farmers in the province are being advised to increase biosecurity to protect their animals, and to carry out disinfection twice a week. Meanwhile, traders are being urged not to sell pig products from ASF-infected areas.
Despite new ASF cases, several regions of the Philippines were recently reported to be pushing ahead with the national disease recovery plan.
Thailand reports two further outbreaks
According to the latest official notification to the OIE, new cases of ASF have been detected at two locations in Thailand.
In mid-March, a total of eight pigs were involved in outbreaks at one location in each of the northeastern provinces of Ubon Ratchathani and Roi Et.
These latest cases bring the Thai total outbreaks since November last year to 64. Directly impacted are around 1,950 pigs in 29 of the nation's 76 provinces.
First ASF cases confirmed in northeast Indian state
Northeast Indian states of Assam, Mizoram and Sikkim continue to see new cases of ASF, reports The Print.
According to this source, 526 pigs have died from the disease in Mizoram so far this year, while another 111 mortalities are suspected. In Sikkim, the death toll is likely to be around 115, and two cases have been recorded in Assam.
With blood samples confirming the presence of the ASF virus, these are the first ASF cases to be recorded in Sikkim.
Having registered more than 33,000 pig deaths from ASF across all 11 districts in 2021, Mizoram had reported no cases between December 2021 and March of this year.
Around 70% of Indian pork consumption occurs in the northeast of the country, and pig farming supports thousands of families in this region. Neighboring countries where ASF is endemic are suspected as the source of infection. This is despite official bans on the cross-border trade in pigs and pig meat.
ASF situation elsewhere in Asia
Latest update from the United Nations' Food and Agriculture Organization (FAO) puts the number of wild boar in South Korea that have tested positive for the ASF virus at 2,439. This was the situation on March 31.
Since the first outbreak in September 2019, wild boar cases have been found mainly in the two most northerly provinces — Gangwon and Gyeonggi. Others were further south in North Chungcheong and North Gyeongsang. In addition, 21 outbreaks have occurred on South Korean pig farms over this period. None has occurred in domestic pigs since October 2021.
According to the most recent report from South Korea's veterinary authority to the OIE, a further 54 cases of ASF have occurred in the nation's wild boar. Up to March 31, these were found at 12 locations.
In China, ASF eradication in the short term would be very challenging, according to the FAO. This assertion from local media is based on the detection of the ASF virus at pig breeding, transport and slaughter facilities across the country during 2021.
Meanwhile, new cases of ASF have been detected in two districts of Indonesia. These are located in the Central Kalimantan region on the island of Borneo.
In the Far Eastern federal district of Russia, two more wild boar have tested positive for the ASF virus, They were found in the Khabarovsk region. This is according to a recent OIE notification from the national veterinary agency.
View our continuing coverage of the global African swine fever situation.