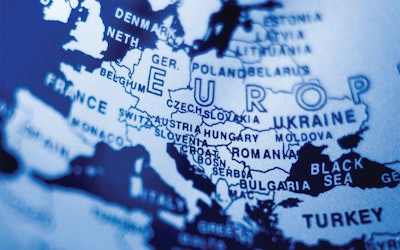 Conflict in Ukraine is exacerbating the already volatile global supply of agricultural and food products.
In the European Union, measures are helping address supply gaps arising from a reduction in imports of grains, oilseeds and poultry from Ukraine. Among these measures are imports of genetically modified (GM) grains from more distant sources, and cultivating land set aside for environmental purposes.
World agricultural markets were already under pressure before Russia's invasion of Ukraine in February. According to the latest report from the European Commission (EC), the armed incursion has added a further layer of complexity to the situation.
In the newly published EC report covering the coming months of 2022, the authors stress that the European Union (EU) market will be able overall to absorb the forthcoming shocks to the food supply system. This is attributed to the region being generally self-sufficient in food, and having a large overall surplus of many products. However, these conditions will do little to protect consumers from rising prices and economic inflation.
The EC report – titled "Short-term outlook for EU agricultural markets" — was published by the EC's DG Agriculture and Rural Development last week.
Strong forecasts for arable crop production
Overall harvests are forecast to be "very good," according to the EC outlook. This is based on European farmers taking advantage of recently proposed measures, and increasing areas under corn, sunflowers and protein crops.
Clearly, the assumption also relies on favorable weather conditions. Under these circumstances, EU grain harvest could exceed 297 million metric tons (mmt). Meanwhile, the region's output of pig meat and biofuels are expected to be down. In combination, these are expected to reduce the adverse impacts of heavily reduced trade from Ukraine.
As Ukraine is also a leading global supplier of sunflower oil, prices of sunflower seed and rapeseed have spiked sharply in recent weeks. However, EU production is forecast to rise significantly this year and next, according to the EC. As a result, it is not overly concerned about future oilseed supplies.
Supply issues for the feed sector: more flexible specifications
In the short- and long term, the Russian invasion of Ukraine has closed off essential feed grain supply routes from the Black Sea, according to the European feed manufacturers' association, FEFAC. This will test the resilience of the region's food supply chains, the organization says. To mitigate the effects, it is working with policymakers.
One issue that is already being addressed in the EU is a shortage of corn for livestock feeds.
With a focus on maintaining food security, the EU is relaxing its restrictions on corn imports, reports Bloomberg Quint. This is to fill the gap in supply from the loss of non-GM corn from Ukraine. Imports from this source have averaged 7.2 mmt per year over the past five years. Also contributing to the EU's total annual corn imports of 12.9 mmt were Brazil (3.3 mmt), 400,000 metric tons from each of Canada, Russia and Serbia, and 1.2 mmt from other sources.
Among other measures to fill this gap, the EU is now allowing shipments of GM corn from the U.S. and South America, according to the same source. One analyst forecasts U.S. corn shipments alone will amount to 800,000 metric tons this year.
Furthermore, previous restrictions on standards are being eased. Spain is reported to be expecting shipments from the U.S., Argentina and Brazil that contain low-level pesticide residues.
Russian agrifood trade with the EU
Trade with the Russian Federation represents 3.7% of overall EU exports in agrifood products, and 1.4% of overall imports in this category. This is according to a recent briefing to the European Parliament.
Among the leading products imported from Russia, in monetary terms, are food industry co-products, including oilcakes and feed components (32%) and oilseeds (19%). Around 19% of all EU imports in the category "other feed and feed ingredients" come from Russia.
Trade in the reverse direction amounts to 8% and 7%, respectively.
Call for EU to stop promoting meat consumption
Citing growing feed shortages in the EU arising from the disruption in supplies from Ukraine, there have been calls for the EC to end the promotion of meat consumption.
According to EurActiv, European Parliament lawmakers across political groups called for a ban on promoting the eating of meat. This has long been a contentious measure. With shipments of grain and oilseeds from Ukraine widely suspended, politicians are calling for more land in the EU to switch to human food production.
Recently, the Commission has proposed that uncultivated areas in the region are used to grow crops for animal feed.
In the past month, the EU Agriculture Commissioner said that measures were being considered to expand European production capacity. Among these were to use land left fallow for environmental enrichment to be used for the cultivation of protein crops.
Prospects for EU meat, dairy production in 2022
According to the EC's short-term agricultural outlook, production of meat from cattle, pigs, sheep and goats are all expected to decline in 2022 compared with the previous year.
The only bright spot is a slight increase in the output of poultry meat. So far, rising prices have compensated for the high costs of production for this sector, according to the report. However, further expansion will be limited by ongoing outbreaks of avian influenza. Replacing the imports of poultry meat from Ukraine could be increased volumes from other countries. Alternative sources mentioned are the United Kingdom, Brazil, Thailand and China.
A year-on-year reduction of 1.5% in the EU dairy herd is attributed to the rising costs of milk production as herd sizes and yields were reduced.