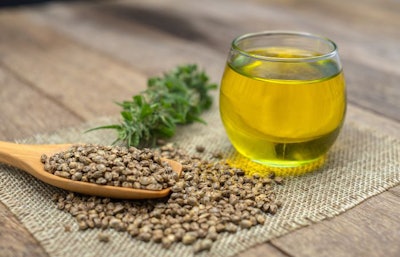 Bill to be introduced in Pennsylvania would mirror Montana law permitting hemp in animal feed
Weeks after AAFCO issued a letter warning states and other entities against rushing action on hemp, a Pennsylvania senator has announced plans to follow in Montana's footsteps with a bill that would permit the use of hemp in animal feed.
Pennsylvania Sen. Judith Schwank invited her fellow state lawmakers to join her in supporting legislation to clear a path for hemp in animal feed in a memorandum issued March 15. Bill language has not yet been released, but the memorandum indicates the bill would allow the use of hemp and hemp byproducts and derivatives in commercial animal feed for horses, pets and livestock along the same lines as legislation passed last year in Montana.
But while the announcement goes against the recommendation of AAFCO, hemp industry advocates say they support Pennsylvania's efforts.
"State legislation wasn't created to appease regulating bodies or associations. It is created to allow voters, Pennsylvania residents, farmers and businesses an opportunity to make changes in their state laws as they best see fit," said Morgan Tweet, executive director of the Hemp Feed Coalition. "The people of Pennsylvania have spoken, and the state legislators have heard their cry for change."
Hemp producers in Pennsylvania say the legislation is a long time coming — local advocates for the hemp industry have been pushing for action authorizing hemp as animal feed for at least two years, according to April Line, the "No. 2 guy" at Susquehanna Mills in Pennsdale, Pennsylvania.
Susquehanna Mills decided against growing hemp this year, according to owner Joshua Leidhecker, on account of the absence of a sizable market for the crop. The farm has sold hemp for use in baked goods and other products, but the market remains too niche to support large-scale crop production, he said.
"The fastest way to get to ground is to get hemp meal approved for feed use — even dog food, cat food, all these bits and pieces could collectively fill holes in the marketplace," he said.
While state-by-state legislation could create a legal patchwork that could lead to challenges with shipping and interstate commerce, Line said she believes activity at the state level is necessary to push action at the federal level.
"The advantage of state-by-state legislation is that state regulators can be more progressive and accepting of data and applications more quickly than (the U.S. Food and Drug Administration) can, while the downfall remains obvious in limited markets and interstate commerce," Tweet agreed. "Startup companies and small businesses don't have huge budgets of significant capital backing to hang around and wait for widespread approval and need lifelines like the ones granted by states like Pennsylvania and Montana to keep the wheels turning."