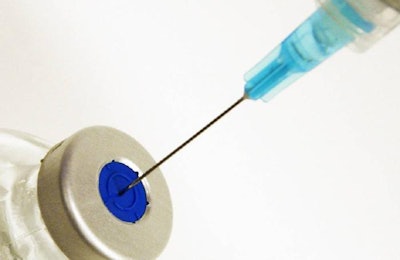 At a new laboratory in the state of Victoria, work will soon begin to develop a vaccine to protect swine from Japanese encephalitis virus.
Among the vaccines set to be developed at a new specialist lab in Australia is one to protect the nation's pig from Japanese encephalitis virus (JEV).
Located in the city of Bendigo, the lab will be managed by Apiam Animal Health in conjunction with Melbourne-based La Trobe University. Australian Broadcasting Corp. (ABC) reports that funding of AUD700,000 (US$535,000) for the facility has been contributed by the Victoria state government.
This will be Australia's first lab dedicated to the production of autogenous viral vaccines, according to Apiam's managing director, Dr. Chris Richards.
In recent years, new viruses have emerged in the country's livestock, he said. However, Australian farmers had no access to home-produced custom vaccines as they have in the U.S. and Europe. ABC reports that autogenous vaccines can help reduce widespread use of preventative medications in animal feeds.
Apiam Animal Health is a leading rural veterinary business in Australia. On 70 sites including 53 veterinary clinics, the company employs around 930 professionals. They cover animal health issues in dairy and beef cattle, sheep and pigs.
JEV infects 50 pig farms
First cases of JEV in piggeries in mainland Australia were detected in January.
While there has been evidence of the disease in the Torres Straits off the north Queensland coast, the virus has only recently been detected on the mainland. It is thought that recent exceptionally wet weather in the east of the country has increased the spread of mosquitoes. These are the vectors of the JEV, transmitting the virus when they bite.
Since then, the infection has been detected on pig farms in four states — Victoria, Queensland, New South Wales and South Australia.
Based on official notifications to the World Organisation for Animal Health (OIE), the disease had been detected on 48 farms across those states up to March 25. While the total number of pigs affected in the country has passed 405,000, the largest herd comprised 100,000 animals.
Most frequently reported symptoms are elevated rates of stillbirths and mummified fetuses at farrowing. Also observed have been increased abortions in sows, and piglets born weak and/or with tremors.
In some Asian countries, two types of vaccines against the disease are commercially available for humans and animals, according to the OIE Terrestrial Manual. Inactivated and live-attenuated options are available for pigs.
JEV in other animals
As well as pigs, horses are the other main dead-end hosts of JEV, according to the latest update from the federal Department of Agriculture, Water and the Environment.
During March, one alpaca in the Adelaide area was confirmed with the infection. This species is also a dead-end host for this disease, meaning that the JEV is not passed onto other animals.
According to the same source, a wild pig subjected to routine testing in the Northern Territory has also tested positive for the virus.
Rising human cases of JEV in Australia
As of April 4, the Department of Health reports there have been 35 human cases of JEV in Australia. Three of the patients have died.
Of these, 24 cases have been confirmed in New South Wales, Victoria, South Australia and Queensland. Meanwhile, the other cases are described as "probable," based on epidemiology or symptoms and lab results. However, diseases caused by related viruses cannot be ruled out in those cases.
Authorities in Australia are advising a range of measures to minimize exposure to mosquitoes. These are particularly aimed at those working around pigs and horses.