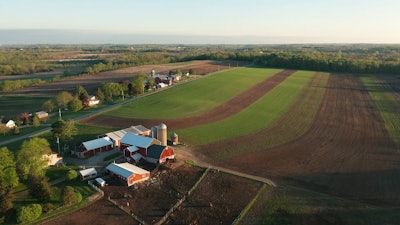 Agriculture groups and lawmakers had asked to use land in the Conservation Reserve Program for production to provide more food security amid war in Ukraine
U.S. Agriculture Secretary Tom Vilsack has declined requests from agricultural groups and lawmakers to provide flexibility for acres within the Conservation Reserve Program (CRP).
Several U.S. agricultural groups, including the American Farm Bureau Federation (AFBF) and the National Grain and Feed Association (NGFA), recently sent a letter to Vilsack expressing "growing concern" over the implications the war in Ukraine will have on global food security. In a separate letter, Sen. John Boozman (R-Arkansas) argued the deadline to sign up for CRP should be delayed due to the disruptions caused by Russia's invasion of Ukraine.
In his written response, obtained by Politico, Vilsack pointed to several factors for his decision, including that only 1.3% of prime farmland is enrolled in CRP and that most of the CRP acres are less productive than other cropland.
"Additionally, a considerable proportion of currently enrolled CRP acres are in areas experiencing significant levels of drought. Production on those acres would be marginal at best, and there is no realistic way to convert all CRP acres into cropland in 2022. Even under non-drought scenarios, we know from historic data that acres coming out of CRP have significant 'slippage,' meaning that one acre coming out of CRP does not transfer into an acre of crop production, but closer to half that," Vilsack said.
He pointed out that, because much of CRP land is working lands grassland that is regularly hayed and grazed, small strips of land or wetlands at edges of fields, or in forests and shelterbelts, this land cannot easily be converted to crop production.
"Importantly, it is critical to point out that if we allow the tillage of CRP acres, the marginal at best benefit to crop production will be coupled with a significant and detrimental impact on producers' efforts to mitigate climate change and maintain the long-term health of their land," the letter said.
Vilsack said farmers have the option to exit the CRP and bring land back into production.
"With almost 4 million acres of CRP expiring this year, many landowners will have the option to bring some land back into production, and in many cases, they may choose to re-enroll buffers and sensitive portions of the land while returning other areas to production," Vilsack said, adding that "our data reflect the reality that, with higher commodity prices, producers are not re-enrolling all of these acres in CRP. Instead, high prices for this year's crops will motivate producers to plant more acres of wheat, soybeans and corn, with the main limiting factors being weather and soil moisture conditions."
Vilsack said the U.S. Department of Agriculture would continue to monitor the crisis in Ukraine and that it is in close contact and coordination with partner organizations including the U.N. Food and Agriculture Organization and the World Food Programme.