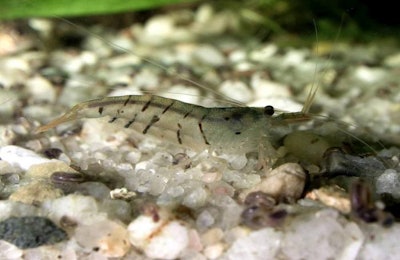 Just as a new project is set up to improve the sustainability of aquaculture in Southeast Asia, Thailand-based agri-food giant, Charoen Pokphand Foods (CPF) says it is seeking ways to reduce fishmeal use in its fish and shrimp feeds to no more than 5 percent.
Traditionally, aquafeeds for most commercially farmed fish and crustaceans were based on wild-caught species not used for human consumption. With a view to improving sustainability, the main sources of the feed protein in recent years have shifted to waste from aquaculture product processing, and fishing bycatch.
CPF sees its latest goal as a contribution to maximizing the use of marine resources, restoring the fertility of the seas, and reducing illegal fisheries.
Its target will be achieved by upgrading animal breeding and cutting sea water use in its aquaculture operations, according to Sujint Thammasart, DVM, CEO for the firm's aquaculture business.
"We have a clear guideline in protection and conservation, to ensure the sustainability of marine resources," he said. "We place our emphasis on innovating shrimp feed formulation to reduce fishmeal which is part of marine resources, and shifting from black tiger shrimp farming to vannamei shrimp. Fishmeal portion in shrimp feed production has fallen from 35 percent 20 years ago to 7 percent now."
CPF's target for the inclusion of fishmeal in shrimp feeds in three years is 5 percent.
The firm has joined eight Thai organizations in supporting the Fishery Improvement Plan for the Andaman and Gulf of Thailand coasts, which aims to improve sea fertility in those areas.
Understanding fishmeal production in Southeast Asia
Just last month, the Marine Ingredients Organisation (IFFO) and the Global Aquaculture Alliance (GAA) announced their collaboration on a new project to study the supply of raw materials for fishmeal production by the fisheries of Southeast Asia, which provide a large volume of fishmeal and fish oil for the aquaculture industry in the region.
End users of aquaculture are increasingly recognizing the need to ensure fish are produced responsibly, according to IFFO. So, with the goal of using fishmeal supplies more responsibly in future, the study will examine the social, economic and environmental aspects of sustainability in Thailand and Vietnam, as these countries are the most important suppliers of fishmeal and fish oils in the region.
"Although the raw material supply for fishmeal production globally comes in the main from well-managed fisheries and byproduct, it is recognized that there are some environmental and social challenges with the sourcing of raw material in Southeast Asia," said Andrew Mallison, IFFO's director general. "As demand for responsibly produced fishmeal in this region is increasing, IFFO welcomes the opportunity to work with the GAA in addressing where the constraints to responsible production lie, and look at how these may be addressed to promote change in the region."
"It is critical we better understand where to target improvement efforts and how best to support the region in meeting the increasing demand for fish meal inputs," said Melanie Siggs, director of strategic engagement for the GAA. "Both the welfare of the fisheries and the associated communities, as well as the development of responsible aquaculture to meet global demand, rely upon truly sustainable supplies – this is the juxtaposition between wild and farmed seafood."
With the growing demand for fish and shellfish for human consumption, aquafeed output has been increasing faster than for other farmed species in recent years.
Global production of aquaculture feeds grew by 12 percent last year to just under 40 million metric tons, according to the latest Alltech Global Feed Survey. Almost three-quarters of total aquafeed is produced in the Asia-Pacific region.