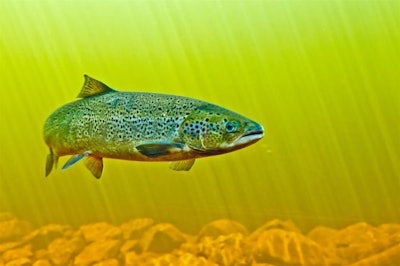 Huon Aquaculture Group has settled a legal dispute with its former feed supplier, Ridley AgriProducts, over outstanding payments for fish feed, according to reports.
Huon Aquaculture Group, a Tasmania, Australia-based salmon producer, paid AUS$16.6 million to Ridley to cover the outstanding payments, and also received AUS$4.5 million in compensation.
Ridley claimed that Huon refused to pay for feed supplied to it between February and July 2016. Ridley initiated proceedings alleging breach of contract in the Supreme Court of Victoria in August 2016.
Huon then filed a defense in October saying it has experienced loss in sales and reputation after some shipments were rejected and customers complained about the lack of color in the salmon. Huon said Ridley's feed lacked the necessary amounts of digestible pigment.
"Loss of flesh color in salmon produced by Huon caused loss of sales of Huon salmon, compensation claims by customers, and loss of reputation," it said in court documents. "From March 2015, Huon received complaints from customers about flesh color in Huon salmon with salmon shipments rejected, unable to be sold, or sold at prices below those which would otherwise have been obtained."
Huon also said the pellets floated on the water and did not sink as desired at a consistent speed and broke, causing dust, chips and oil leakage. It also said the feed caused slower growth rates in salmon.
After the filing of the defense, a hearing was delayed until May 2017. After a mediation process, an agreement was reached in June for final payments to be made by July 21.
In Huon's annual report, released in September 2016, said the company had experienced issues with the fish feed supplied by Ridley and therefore withheld payment.
According to WATT Global Media's Top Feed Companies database, Ridley AgriProducts is owned by Ridley Corp., and is Australia's largest commercial feed producer, with sites in all eastern Australian states.