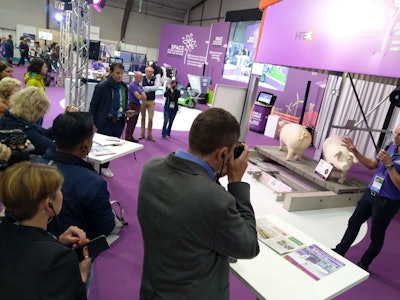 2019 edition of French livestock sector exhibition focuses on solutions for combating climate change
In mid-September, more than 100,000 show-goers gathered in Rennes for the 33rd edition of the French livestock fair SPACE. This year's event focused on the how "the future of agriculture will be shaped by climate change at the global level."
"An agro-technical transition is underway. Livestock farmers have made considerable efforts to change their practices, and this has already yielded results and set our agricultural model on the right path," the organizers said.
To support this theme, the event showcased new innovations in its "Espace for the future" exhibit, "Climate friendly practices & technologies." The display featured climate-friendly production solutions for livestock farmers to adopt.
According to The Economist magazine's sustainability index, French agriculture was named the "Most sustainable in the world," a measure based on 58 sustainability indicators across three themes — food loss and waste, sustainable agriculture, and nutritional challenges — and three types of key performance indicators: environmental, societal and economic.
To tie the efforts of the French feed industry's dedication to sustainability, combating climate change and its role in reducing the country's environmental impact, I spent an afternoon with longtime WATT Feed contributor and, in this case, translator Yanne Boloh to showcase the sustainable solutions on display at SPACE 2019.
While no doubt dozens of additional companies had relevant products and services on display, here is an abbreviated list highlighting some of the innovations I saw during my visit:
Utilizing local byproducts for feed additive production
Nor-Feed is a Beaucouzé, France-based feed additive manufacturer producing 100% natural plant extracts focused on four product categories, including grape and citrus sourced in France, and saponins from yucca and fenugreek. Its products, which have antioxidant and antimicrobial properties, are used in antibiotic-free diets and to reduce emissions in livestock and poultry.
"Yucca impacts ammonia and methane production in the animals, which is clearly linked to [improving] the environmental impact of farmers," explains Gilles Le Thomas, senior Nor-Feed business development manager. "Antibiotic growth promoters (AGPs) have been banned in Europe for a long time. In France, feed producers use natural products for AGP-free formulas because it improves gut health and immunity, but allows you to keep performance."
He notes that European feed producers are increasingly looking to include "green" or natural additives in their formulations and, in France, seek sustainability through the sourcing of local ingredients which, in the case of Nor-Feed, include the byproducts of the wine industry and juice production.
Seventy percent of the company's product is sold abroad.
Energy-efficient ingredient manufacturing
Bonilait Protéines is a division of the French dairy cooperative Sodiaal and "a leader in the manufacturing and distribution of milk replacers."
"Our products help reduce the weaning age, which helps make the farmers more efficient," says Isabelle Mourot, marketing manager, Univor. Each year, more than 1 million young animals are weaned using the company's milk replacers.
In addition to using a dairy byproduct to create a high-quality ingredient for young animal nutrition, the company is committed to reducing its environmental impact in its manufacturing process. Bonilait utilizes solar panels to heat the water that supplies its wood and gas boilers. The solar panels and the biomass boiler have allowed the company to reduce its gas consumption by 75% and its CO2 production by 18,000 tons per year.
Antibiotic-free production with natural ingredients
Brittany-based Olmix Group has been supplying natural clay and algae additives to the animal feed industry since 1995.
"Our focus is on the reduction of chemical use at all stages of food production – plant care, animal care, human care," says Olivier Biannic, Olmix's antibiotic-free production manager.
Recently, the company began to focus on communicating poultry and livestock's sustainability story to consumers by promoting the ways farmers ensure animal health and welfare without antibiotics through a natural diet. It is doing so with the launch of its "Thanks to algae!" program, "Merci les algues!" in early 2019.
"The value to consumers can be passed on to the farmer, who can charge more money for their products," Biannic explained.
For example, the French turkey supplier La Trinitaise and Olmix have partnered to develop "a high-quality industry with turkey raised without antibiotics treatment from the hatching stage" called SAGA. SAGA turkey meat receives the "Merci les algues!" logo and is sold as a premium product to the foodservice industry.
In addition, Olmix also ensures its algae harvesting is environmentally friendly by partnering with the local authorities and aquatic researchers. Algae is processed without solvents or chemicals at its recently expanded processing facility.
87% of French farmers are concerned about climate change and are taking steps to improve the environmental footprint of their operation, and 71% of the respondents report that they aim to improve their feed efficiency.
— SPACE survey on climate change
Feed ingredients for emission reductions
Valorex studies and extrudes whole oil and protein seeds (mainly linseed or flaxseed) to produce an easily digestible animal feed ingredient high in omega-3 fatty acid. Valorex's linseed is largely sourced from France (60%), but also the U.K., Germany and Switzerland. Farmers need to learn to cultivate linseed so the company trains and contracts with producers to ensure its supply. The use of linseed-derived proteins allows for less dependence on imported soy in Europe.
In addition to the health benefits of omega-3s, there is an added benefit to including linseed in animal diets: emission reduction.
"When you feed grass or linseed, the animals produce less methane, and the reduction is up to 30% due to better digestion," said Beatrice DuPont, Valorex's business director.
Based on National Institute of Agronomy research, for example, use of fava beans reduces the total carbon footprint by one-third with the replacement of soybean meal with other protein-rich plants.
Valorex's Dival diet index received two-star recognition in the 2019 Innov'Space innovation product showcase.
Improving animal welfare through feed production
Private French feed producer the Michel Group, located in Brittany, produces more than 800,000 metric tons of feed annually. INFEED, a subsidiary of the Michel Group, launched its new product Solubird feed gel for day-old-chicks in 2019. The product is meant to improve chick well-being during transportation from the hatchery to the farm.
"It hydrates and nourishes the chicks and they are ready to consume the feed when they arrive at the farm," said Mariyam Chahdi, an INFEED sales support and communication specialist. "It produces better long-term performance, reduces mortality during the first days of life and improves the efficiency of the breeders."
Long term, the company plans to develop a reclamation system for unused product and waste-free packaging.
Solubird was also recognized in the Innov'Space showcase, receiving one star.
Sustainable ingredient sourcing
According to Jacques Poulet, the director of COOP De France, the French feed industry requires 4 million tons of soy annually, but only produces one-tenth of that amount.
"If you look in terms of raw material sustainability, the only impact we have is with imported Brazilian soy cakes; however, we have been able to reduce this amount by 40% because of increased use of rapeseed cake over the last decade," he said.
In addition to its involvement with the Roundtable on Sustainable Soy, France has taken it a step further by pledging to only import zero-deforestation commodities by 2025.
SPACE 2019 was held in Rennes, France, September 10-13. The four-day event featured 1,400 exhibitors and visitors from 120 countries.