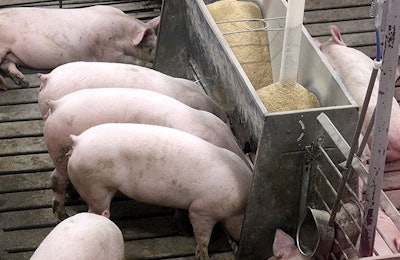 It's been nearly a year since the beginning of China's African swine fever (ASF) outbreak. Since, the pathogen has spread throughout Asia and several European countries, with mixed reports of its containment and with distant prospects for a vaccine.
To combat its spread to the Americas, enhanced biosecurity measures have been set in place at its borders, namely airports, to control ASF's introduction via illegally imported meats and to track the exposure risks of travelers.
In the opinion of Scott Dee, Pipestone Veterinary Services' director of research, who is one of the leading ASF researchers, the scrutiny of feed ingredients is the third critical preventive measure.
"All the data shows that soy-based products are the highest risk for ASF," he says, noting that ASF is highly stable and capable of surviving across oceans, time and inadequate heat treatment. Dee recommends sourcing any soy products locally or from countries not impacted by the disease.
He believes micro ingredients pose a much lower risk due to quality control and processing.
Feed additive solutions
Beyond prevention, Dee and his team have been examining feed additives solutions with acidification and antimicrobial properties to mitigate and combat the effects of ASF.
Studying several feed additives mitigants on biosafety level 2 (BSL-2) viruses, such as porcine reproductive and respiratory syndrome (PRRS), porcine epidemic diarrhea (PED) virus and Senecavirus A, versus a positive control of untreated feed, Dee has found very promising results.
"The mitigants have been very effective in reducing all three of these viruses in the feed — reducing clinical signs and keeping good performance in the face of disease challenges," he says, noting that research cannot be conducted on ASF directly because it is classified as a BSL-3 pathogen.
Dee has been working with products from Kemin, Novus, ADM, Anitox and Purina.
While there are differences in price and application, all appear to be effective, he says.
"Our goal was to create a list of mitigants tested under equal conditions to show if they are effective or now," Dee reports. "Then, the producer can pick and choose which program works for them."
Will ASF spread?
I asked Dee: "True or false: It's not a matter of if, but when ASF will reach North America?"
"It will be true if we don't change some things, but false if we continue to improve our biosecurity at a national level," he says. "There's enough science to help us reduce that risk significantly."
For the most current ASF information, tune in on August 28 for WATT Global Media and Feed Strategy magazine's ASF update webinar. The free webinar will feature Dee's latest ASF research, as well as commentary on its global economic impact, presented by CoBank's lead animal protein economist, Will Sawyer.
Keep an eye out for event registration in the coming weeks.
View our continuing coverage of the African swine fever outbreak.