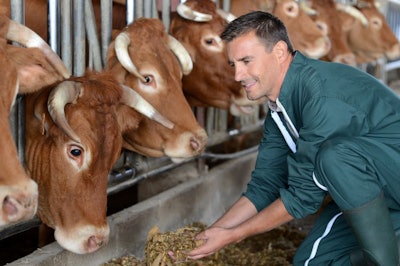 "Sustainability" as a buzzword has proven its staying power; however, it's important to stay focused on all elements of what defines sustainable production rather than getting bogged down with its "environmental" applications.
This is especially true when communicating with consumers who have their own ideas — often incorrect — about what sustainable animal agriculture entails.
The conversation about sustainability should include consideration of the Three Pillars of Sustainability or Three E's of Sustainability: Economic, Ethical and Environmental. Each "E" is critical in evaluating and measuring the effectiveness and promise of an organization or industry's sustainability efforts.
For decades, all facets of food production have made strides to improve on their commitment to the three Es from redefining animal welfare standards to the sustainable sourcing of raw ingredients. Unfortunately, there still seems to be a gap between consumer expectations and the reality of food production, where producers are expected to adhere to uninformed and often unrealistic demands.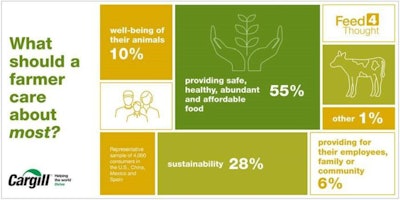 Cargill's 2019 Feed4Thought survey found consumers had a hard-to-satisfy wish list for farmers. (Courtesy Cargill)
Survey points to sustainability disconnect
The results of Cargill's recent Feed4Thought survey highlight this struggle.
Tabulating the opinions of 4,000 consumers across the United States, Canada, Mexico and Spain, Cargill found that respondents wanted farmers to be "sustainable" and "efficient," but also question their level technological savvy and "doubted the long-term sustainability of today's agriculture."
Respondents feel "farmers should care most about providing safe, healthy, abundant and affordable food" but "those same respondents would prefer their food come from smaller/specialty, local or organic farms — which can't necessarily compete on cost."
The survey feedback suggests consumers especially need to be educated about animal agriculture. While 95% of respondents held a positive view of farmers, "animal protein producers were viewed less favorably than farmers who grew crops."
Animal feed industry's role
In the face of negative consumer notions about agrifood's dedication to sustainable animal production, here lies an opportunity for the feed industry to step forward and assist in telling its sustainability story.
Namely, by identifying and communicating the variety of ways feed contributes to the three pillars of sustainable animal protein production.
"From an environmental standpoint, by optimizing animal feed solutions and improving feed conversion rates, we can help farmers do more with less and reduce environmental impacts," says Heather Tansey, sustainability lead for Cargill's global animal nutrition and protein businesses. "From an economic standpoint, doing more with less and enhancing animal livability through nutrition solutions helps our customers' business to be more successful. And, from an ethical standpoint, feed and nutrition solutions can enable animal welfare outcomes."
Tansey suggests feed manufacturers educate downstream protein buyers — such as retailers and foodservice companies — about the role feed innovation plays in creating and maintaining a sustainable food system.
"We understand that feed has a significant role to play in sustainable livestock production, and we believe farmers and agriculture can, and will be, part of the solution," she says.
What does your company do to educate consumers and downstream customers about its part in sustainable production?