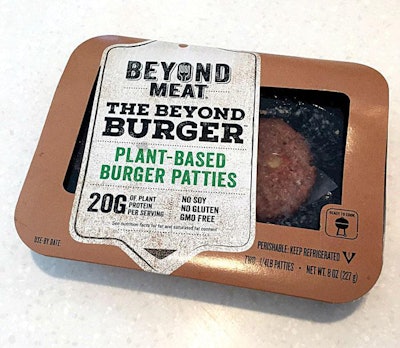 With all the buzz about plant-based meats as the next great threat to animal protein production, it's time to step back and take a good look at the competition.
A recent edition of National Public Radio's (NPR) On Point examined the popularity of plant-based meats and whether these ultra-processed products were, in fact, a healthier and more environmentally friendly alternative to conventional animal proteins. The segment brought together a journalist, a nutritionist/researcher and Will Schafer, Beyond Meat's vice president of marketing.
"One of the things that's most exciting to us is who's buying the product," Schafer said. "After reviewing retail loyalty card data, we saw that 93% of the people buying the Beyond Burger also had meat in their basket."
That stat may be surprising to some, considering "veggie burger" consumption would seem to go hand-in-hand with meat-free diets.
In fact, according to the NPD Group, 14% of the U.S. population now consumes plant-based alternatives on a regular basis, and 86% regular plant-based protein consumers do not consider themselves to be vegan or vegetarian.
Looking forward, global consultancy firm A.T. Kearney prognosticates that "more than 50% of meat products will be replaced by plant-based or lab-grown alternatives by 2040" in its recent report, "How Will Cultured Meat and Meat Alternatives Disrupt the Agricultural and Food Industry?"
Plant-based meats see growth, profits
Meanwhile, 2019 is proving to be great year to be in the plant-based meat manufacturing business.
Beyond Meats has reported upward of $67 million in second quarter revenue and forecasts a total of $240 million in 2019 net sales, CNBC reports. The company attributes these gains to consumer demand and restaurant partnerships. Since the release of its May initial public offering and the erratic movement of its stock, the company is now valued at more than $11 billion.
This week (August 8), the Beyond Burger's rival, the Impossible Burger, will make its "Impossible Whopper" debut in more than 7,000 Burger Kings across the United States, touting the slogan, "100% Whopper, 0% Beef." These pea-protein patties will cost $1 more than its traditional flame-broiled burger.
Impossible Foods, producers of the Impossible Burger, has not gone public (yet), but is valued at $2 billion.
And we're all familiar with continuing investment and interest conventional meat producers and other agrifood stakeholders have taken in the growing alt-protein sector.
What does this mean for animal protein producers?
Not much — at least in the short term as food science and processing technology has not (and will not?) replicate the true taste and texture of pure animal meats.
If you're a meat eater, you're likely to remain a meat eater. However, it is wise to embrace and factor in the rise of the flexitarian, or a consumer who eats any and every protein whether it came from a legume or a chicken.
According to Nielsen, 98% of plant-based meat alternative consumers are in fact meat eaters. And this is what the purveyors of meat alternatives are banking on.
Unfortunately, some consumers may be led to believe that plant-based alternatives are healthier than whole foods. They are not.
Nutrition Facts:

Beyond Meat "Plant-Based" Burger vs. 90% Lean Beef Burger…$BYND pic.twitter.com/yuKLnXc96E

— Charlie Bilello (@charliebilello) July 22, 2019
Plant-based burger patty contains more than 20 ingredients, and more saturated fat and calories than real lean beef. Many question whether meatless meat should be positioned as a healthy alternative to the real deal. (@charliebilello | Twitter.com)
"Highly processed foods are not as nutritious as whole foods," Kelsey Mangano, nutrition program director and professor of biomedical and nutritional sciences at University of Massachusetts Lowell said during the NPR broadcast. "When we feed people protein isolates, like the pea protein and soy, they have not been shown to improve health outcomes as strongly as when we provide the whole food source to individuals — and that's across all food and multiple research studies. What's missing when you look at the ingredients [of plant-based meats], you're not seeing plant foods, you're seeing extracts and isolates."
For otherwise meat-consuming citizens, part of the allure of plant-based alternatives lies with the ethical conflict associated with the environmental impact of meat production and the treatment of food animals. Here is where it falls on the animal protein industry to focus on consumer education about the truths of animal agriculture, a commitment to improved sustainability and a realistic approach to addressing the animal welfare concerns that may begrudgingly lead meat-loving consumers away to "greener" pastures.
Plant-based meat will not replace animal meats entirely, but they have prompted animal ag to take stock of its advantages.