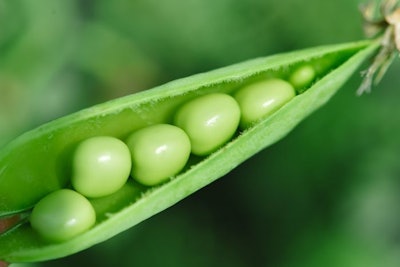 Using pea protein as an alternative to certain, more expensive ingredients can add to your bottom line. Whether you are replacing whey protein concentrate or plasma, or are looking to increase digestibility, read on to find out how pea protein can help your bottom line.
1. Alternative for whey protein concentrate
Alternative proteins that can cover the supply of amino acids offered by whey protein concentrate include mostly products of vegetable origin. Such products include pea protein, along with wheat gluten, potato protein, soy protein concentrate and rice protein. All of these proteins can be equally high in protein content (ranging from 70 to 90 percent) and of equally high digestibility (in high quality products treated properly). Some of these ingredients come with their own problems, and as such a blend is often recommended when they are to constitute more than 5 percent of the total diet.
2. Aid in removing plasma from piglet diets
Removing plasma from simple diets and replacing it with egg-derived immunoglobulins is rarely effective because the highly digestible protein in plasma should also be accounted for. Piglets require a highly digestible feed to thrive, but they have no specific need for the generic proteins in plasma (immunoglobulins are also proteins). This generic protein fraction can be replaced by other, equally digestible, sources of proteins, such as pea protein, whey protein, soy protein isolate, wheat gluten, potato protein or fish meal. Adding any such protein source to a simple diet never brings about the dramatic effects of plasma, which further enhances the notion that it is not the protein quality in plasma that enhances growth performance in piglets. Following an old rule of thumb from the days before plasma, it is recommended to have a minimum 4 percent of animal protein in Phase I diets and 2 percent in Phase II diets. Today, of course, this requirement can be met from highly purified vegetable protein sources.
3. Increasing nutrient digestibility
It has been known for a long time now that nutrient digestibility positively affects feed intake. In young, immature pigs, especially those with low feed intake, every mouthful of feed must count. Thus, ingredients with the highest digestibility are needed in such "special" formulas. These ingredients include the best quality sweet whey, low-temperature fish meal, cooked cereals (especially rice), coconut oil (in preference to other vegetable oils), and refined dairy and vegetable proteins with very low levels of anti-nutritional factors (such as pea protein, wheat gluten, soy protein isolate, whey protein concentrate, casein).