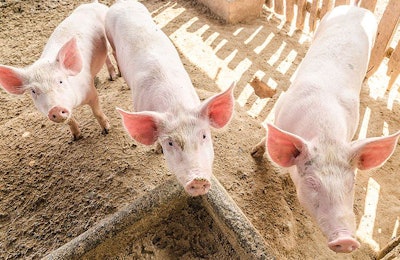 After remaining unchanged for more than three decades, the body covering Danish pig production has taken a fresh look at the standard levels for sodium and chloride in feeds for swine of all ages.
As a result of new research findings, the levels for both minerals have been increased for weaners — particularly in starter diets — and reduced for finishing pigs, with those for sows unchanged.
The new levels are set out in the 27th edition of the Danish nutrient standards, published recently by the SEGES Pig Research Centre.
Standards for sodium in weaner diets now stand at 2.5g, 2.1g, 2.0g, and 1.9g per feed unit (FUgp) for weaners weighing 6-9kg, 9-15kg, 9-30kg, and 15-30kg, respectively. For chloride, the new levels are 4.0g, 3.5g, 3.4g, and 3.2g, respectively.
The changes for younger pigs have been explained by studies that show feed intake, growth, feed efficiency and protein digestibility are improved by higher levels of sodium and chloride for the first three weeks after weaning. The observed benefit of additional chloride for protein digestion is attributed to its role in hydrochloric acid in the pig's stomach.
U.S. producers are reported to have increased standard levels for these two minerals in weaned swine in recent times, having observed similar positive responses in animals in this age group.
Furthermore, in Denmark, producers were turning to sodium formate as a substitute for calcium formate, which was in short supply. This indicated a possible imbalance with chloride in these diets compared with those containing standard salt, according to Per Tybirk, chief consultant with SEGES Pig Production.
For older growing pigs, the standards have been adjusted with the aims to reach the same amounts of sodium and chloride per kilo of growth, and taking into account the development of feed allocation during the growing-finishing period.
In feeds for growing and finisher pigs, the new sodium standards are 1.8g, 1.6g, 1.5g, 1.4g, and 1.3g per feed unit for swine weighing 20-45kg, 30-45kg, 30-105kg, 45-105kg, and 65-105kg, respectively. Chloride levels are now 3.0g, 2.7g, 2.5g, 2.3g, and 2.2g, respectively.
For sows, the levels recommended by SEGES remain unchanged at 1.5g sodium and 2.5g chloride per feed unit (FUsow) throughout the breeding cycle. Standard levels for gilts start at 1.6g sodium and 2.7g chloride per FUgp/FUsow for the weight range 30-65g, reducing step-wise to 1.3g sodium and 2.2g chloride for those of 105kg and above.
Research work in sows revealed no justification for changing the previous standard levels, which modeling indicates are sufficient for milk production.
Usually added to feed in the form of salt, sodium and chloride are important electrolytes in the body, helping to maintain the electrochemical gradient across cellular membranes throughout the body. This means they are involved in functions as diverse as the digestion and absorption of nutrients from the gut, as well as maintaining blood volume and pressure.
In poultry, achieving the correct balance of electrolytes can be challenging, particularly in broilers during spells of hot weather.