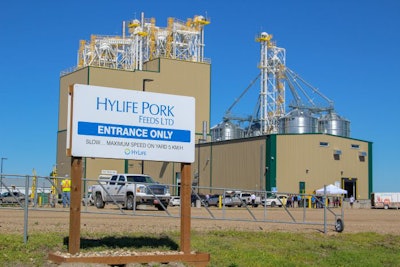 HyLife's recent feed mill expansion in Killarney, Manitoba, Canada, has not only helped the company reach new heights in its production ability, but it has also rejuvenated the economy in rural southwestern Manitoba. The new feed mill showcases HyLife's commitment to growth, innovation and integration as the company continues to strive to be the world's best food producer.
It has been an exciting couple of months for HyLife as the company is starting to see the fruit from all the planning in its major expansion plan that started with the completion of the Neepawa processing plant in April and now a new feed mill three months later. The project was finished on budget and ahead of schedule.
HyLife's continued growth in southwestern Manitoba to meet the demands for high-quality pork in Japan has been welcomed and greatly appreciated by Mayor Rick Pauls of the RM of Killarney-Turtle Mountain.
"We are very excited with the opening of this new feed mill," said Pauls. "This is a huge investment in our community. "
The mill will be identical to HyLife's mill west of Steinbach, with a few new tweaks.
The biggest difference between the two new state-of-the-art mills in Western Canada and traditional mills like the one HyLife uses in La Broquerie is that they produce a pellet-based feed compared with a mash-based feed. Despite more complexity in creating pellet feed, the new mills are rated for 250,000 tons of throughput annually. That is roughly 9,000 semi loads of input with another 9,000 loads delivered. HyLife's feed production in southwestern Manitoba will now transition to Killarney from Kola's mill which was able to produce 45,000 tons of pellet feed annually.
"In the last 15 years HyLife has brought 80 new jobs to our community," said Pauls. "On the last federal census, we saw our population grow by 5.4 percent. That put us into the top 10 fastest growing communities in Manitoba. We can contribute that directly to HyLife. We don't know where we would be without HyLife. We love our partnership, and we love moving forward with them."