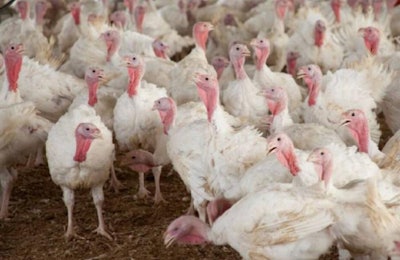 Construction of a new feed mill for Butterball in Yellville, Arkansas, is progressing, with the mill expected to be operational before the end of 2019.
According to the company, the new feed mill will have the capacity to produce 12,000 tons of feed per week, operating on three pellet lines. The mill, which is being constructed to replace two antiquated metal feed mills, will be used to produce feed for the farms that grow turkeys for Butterball in the northwest Arkansas area. The turkeys raised at those farms are processed at either the Butterball plant in Ozark, Arkansas, or the one in Huntsville, Arkansas. All of those farms are located within a 100-mile radius of where the new mill is being built.
The Yellville feed mill will also give Butterball additional milling capacity to facilitate future growth in the Arkansas region, if and when such growth is warranted.
The construction process started a little more than a year ago, with grading and dirtwork having began in December 2017. Building of the facility began in June 2018, and the facility is expected to be in operation by October or November 2019.
It is estimated that 22 new jobs will be created with the new feed mill.
Butterball, according to the WATTAgNet Top Poultry Companies Database, currently has six feed mills in operation. The largest turkey company in the United States, Butterball has four turkey slaughter plants and six processing plants. Butterball in 2017 slaughtered about 1.36 million pounds of live turkeys, about a 1.81 percent decrease when compared to the previous year.
The company recently underwent a change in leadership, as Kerry Doughty stepped down as Butterball's president and chief executive officer, citing health reasons. He was succeeded by Jay Jandrain, formerly the company's chief operating officer.
Butterball is headquartered in Garner, North Carolina.