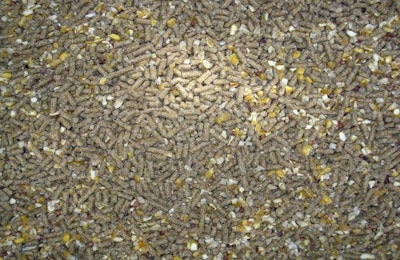 Manitoba, Canada-based New Rosedale Colony Farms Ltd. is expanding its business and introducing a new feed additive for monogastrics called Rozyme Plus.
The company's expansion, expected to be completed this fall, includes large-scale additions to the main feed mill in Portage La Prairie, Manitoba, to more than double its commercial feed production capacity. Stan Baer, of New Rosedale Colony Farms Ltd., told WATTAgNet that capacity would increase to 30 tons per hour. The feed mill will produce medicated and antibiotic-free feed for poultry, cattle and swine, as well as other diversified livestock and equine.
New Rosedale's pelleted feed mill is operational, and the company said it is working to have more pelleted feed ration in the near future.
"There is a lot of new activity to be excited about," Baer said in a press release. "But at the same time, our focus doesn't change. Our business is about farmers working with fellow farmers to provide the best options and nutritional needs for their livestock. We've never been in a better position to deliver this approach. We're looking forward to the future."
New Rosedale is also adding one animal nutritionist, Orit Agbayev, to its staff, and nutritionists and consultants "who had helped on an intermittent basis are now fully dedicated and the team is growing," Baer said. The company also established a partnership with Prairie Beef Nutrition to build on its animal nutrition expertise.
Additionally, New Rosedale has expanded its reach by extending its network of partnerships with feed dealers.
"Establishing our new dealer network has been a multi-year initiative that is a big piece of the puzzle now coming together at the right time," John Wright, New Rosedale dealer representative, said in a press release. "It allows us to supply high-quality feed and innovations such as Rozyme Plus efficiently to a larger marketplace."
New feed additive, Rozyme Plus
New Rosedale worked with an industry partner to develop and launch its first custom branded feed additive technology, the multi-activity enzyme supplement for monogastrics, Rozyme Plus.
"We have felt the time is now to move ahead aggressively," Baer said. "With the changes (such as the Veterinary Feed Directive in the U.S.) impacting the feed industry there is increasing incentive for the approaches and products we are providing. As producers ourselves, we know first-hand the growing importance of feed and nutrition. It's an area of opportunity where advances in production, knowledge and technology can be applied to create more profitability at the farm level. Better feed and better nutrition means better livestock. It's an area where we believe we can make a difference in supporting a healthy and competitive industry."
Rozyme Plus, which recently was awarded Canadian Food Inspection Agency registration approval, is available direct from New Rosedale and its expanded dealer network. It features multiple enzyme activities to achieve elite level feed breakdown, and is particularly suited for use with common feedstuffs and diets fed in western Canada and the northwestern U.S. Along with several enzymes formulated to maximize synergistic activity, it also includes phytase for those who do not already have phytase added into their vitamin trace mineral or premix pack.
"The launch of Rozyme Plus is a major step forward for New Rosedale Feedmill," says Wright. "It's good for the animals. It benefits the farmers. It fits today's environment. It's a great example of the type of innovation New Rosedale is interested in as it moves ahead. Launching this product is the perfect way to kick off a new era for our feed mill business and offer something we believe will be extremely beneficial for our customers."
New Rosedale Feedmill – including production of complete feeds, minerals and premixes – has been HAACP certified since 2007, is a member of the Animal Nutrition Association of Canada, and follows the rigorous safety and quality assurance measures of the Feed Assure program.