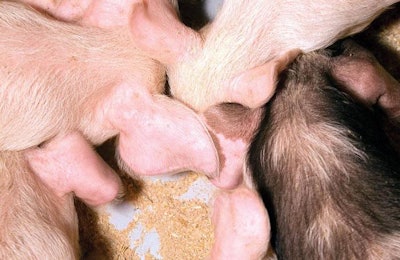 Canadian animal and human health company Avivagen Inc. has received an order for 2 metric tons of its OxC-beta Livestock premix for livestock feed from its partner in the Philippines, UNAHCO, on top of a first order of the same amount in June.
UNAHCO is the exclusive distributor for Avivagen's OxC-beta Livestock in the Philippines, where the product is registered for use in all food-producing animal species.
The Philippines is an important animal feed market, with an estimated annual feed production of 17 million metric tons for 2017, up dramatically from 11.75 million metric tons in 2016, according to U.S. Department of Agriculture (USDA) Foreign Agriculture Service GAIN Report.
Avivagen also recently announced its first order for OxC-beta Livestock in Thailand. The 100 kg order also represents the first time the product will be used for commercial application in sow feeds.
"Use in sow feeds, which is a new application of the product, is of further significance as it provides the first commercial validation of research findings showing that OxC-beta Livestock positively impacts sow health, milk quality and the health of nursing piglets. Commercial validation in Thailand is expected to positively influence adoption for use in sows in other countries," a company press release said.
More about the product
OxC-beta Livestock is a proprietary product designed with the intentions of replacing the antibiotics commonly added to livestock feeds. Avivagen's OxC-beta technology is derived from Avivagen discoveries about carotenoids, compounds that give certain fruits and vegetables their bright colors, and is a non-antibiotic means of maintaining optimal health and growth.
OxC-beta Livestock is registered and available for sale in the Philippines, Taiwan, Thailand and more recently New Zealand. Avivagen has plans to continue accelerating market access and the commercial uptake of its OxC-beta Livestock product.
The company said in a press release that finding a replacement for antibiotics in livestock feed is a problem that needs an urgent solution and represents a multi-billion-dollar market opportunity.